+

ONLY THE CHOSEN MAY WORSHIP ME!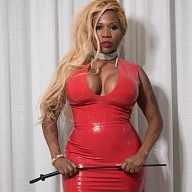 "Some say the blacker the berry, the sweeter the juice
I say the darker the flesh then the deeper the roots"

― Tupac Shakur
With over eight years in the South Florida BDSM arena, I find My most interesting and enjoyable sessions are the ones where I respectfully and consensually challenge your limits. And challenge I will. I insist that My bois exhibit self confidence, good hygiene, intelligence and financial stability. you will present yourself in a manner that is worthy of My attention. Please be advised that these requirements are non negotiable!
As your Goddess it is My responsibility to assist and guide you with a strict, firm and loving hand. There will be times when you will feel My wrath. There will be days when you will feel the leather of My crop. There will be moments when you will feel the sting of My cane. My bois have all experienced this journey. So don't worry, with time and patience you will too.
All experience levels are welcome to apply for servitude with Mistress Mona. I accept novices, couples, women, the experienced as well as the hardcore sissy, slave, pet or kinkster. My only caveat is that you respect Me, My play-space and most importantly the philosophy of Female Supremacy.
All sessions require a 50% deposit and should be booked via email that includes the following information:
Tribute
60 mins/ $250
90 mins/ $300
2 hours/ $400
Overnight $1500
Name
Age
Email
Phone
Hard/soft limits
Any health issues
Type of session
The Look
Mistress Mona is a 5'6", curvy ebony woman in her early 40's with long blonde hair and brown eyes.
She is available for Male, Female, Couples, and Trans.
Interests
Good Day!
I am a Professional Shopaholic!
I love my doggies! Tara&Rocco
Currently, watching Jack Ryan on Amazon
Favorite Food! I know fried chickens! I am a foodie!
GreyGoose and Cranberry my drink of choice!
I am still down with Miami Dolphins(1972) and The Heat!
I am the proud Founder and Owner of The Legendary " Red Room" of South Florida.
I love to exercise and gardening…
To be continue in person!
Expectations
BE ON TIME
BE YOUR WORD
Thats it…