+

+Luxury & Sophistication with a Wild Side. All-American VIP Companion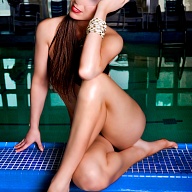 "If you obey all the rules. You miss all the fun!" Nicolette Ferrara
My background probably mirrors your own I am well-read, highly-educated, and extremely well-traveled. I keep the full schedule typical of an ambitious woman.
It's difficult for me to put myself in words. I asked a friend to help out:
"Nicolette is an ingénue with an curvy and athletic build, and a charmingly demure smile. At first glance, she's stunning, poised, polite—a dynamic woman you might take to the theater, a gala, or a three-martini lunch.
She's strikingly beautiful but carries herself as if no one is looking. The moment she steps through a door, she commands the room; always makes an entrance.
Her stunning smile, bedroom eyes, firm handshake, sultry voice, contagious laugh, combined with her exuberant sense of humour and wit. There's no one like her.
But—when you get to know her, you'll find that she also tends to misbehave. Nicolette enjoys all things high-adrenaline: exotic foods, spontaneous travel abroad, unique "dreams" and kinks, and the reckless pursuit of happiness.
Nicolette will hop on the back of your motorcycle sans panties, text kinky things to distract you at work, and eshew everything to stay in all day.
She'll take all your money at poker and then put her new-found wealth to good use buying you lap dances.
She'll talk about anything under the sun or nothing at all.
Nicolette is very selective about who she sees, but for the right person she can be a muse, confidante, and well-kept to yourself."
Many of my colleagues are surprised to learn I was crowned The Playboy Bunny.
It was quite the unexpected, unplanned honor to have won the 'International Contest to honor the Anniversary of the Iconic Playboy Bunny'.
Between you and me, I didn't enter to win.
I just thought it sounded like a fun way to meet new people. A bucket list item, yet, antidotal;
I give 120%. Yet, always seem surprised that my best is good enough.
Usually, you'll find me in my corporate attire: silk blouse, pencil skirt, and kitten heels. On my way to the office, or perhaps a business lunch somewhere around Brickell.
On a night out, I turn heads, but never raise eyebrows. At the end of my day, I love nothing more than replacing my suit, with a pair of silky thigh-high stockings, heels and luxury lingerie.
However, somewhere along the way, I discovered that people like us have requirements that are essential to our success and health.
It is crucial for us to get away once in a while, from the demands of our daily lives, and engineering such escapes is one of the more enjoyable things that I do.
So, I consider it a priority to make time for indulgences: books, massages, and enjoying the arts. Adventure: I love sailing or heading up to a Black Diamond. Michief: I have a wicked imagination, and I hope you do too.
Born and raised in San Diego, and educated in New England. I arrived here, via Chicago. My friends back home refer to me as "Our Grace Kelly"-the perfect combination of genuine warmth, a breath of fresh air, hospitality, classic beauty and intrigue.
I'm often told, "You're the type of person everyone feels comfortable around." I seek lasting friendships with real connections.
Your muse, confidante, and sometimes comedian…
I look forward to getting hedonistic with you.
Let's misbehave together!
Nicolette Ferrara
Website will be back up soon!
Until then, text me for my Instagram.
The Look
Nicolette Ferrara is a 5'10", athletic, 27 year old caucasian woman with long auburn hair and hazel eyes.
She is available for Male, Female, and Couples.
Interests
I love a smile on your face, or making you laugh so hard your face hurts.
I'm working on publishing two books, paint, write music, and play one of my 22 electric guitars.
Favorite foods: all cuisines, especially Brut Champagne, dry or buttery wines, Vosges Chocolate.
For you: Hervé Leger, Agent Provacateur, La Perla, Vosges Chocolate, and especially gifts of latex.
Height: 5'10" with 34" inseam.
38"-26"-38" Shoe: 40/41 Italian
I love experiences with substance and connections with meaning be they brief encounters, or lasting friendships.
I am especially attracted to wise eyes, honest smiles, sarcastic humor and intelligence.
I enjoy exploring the edges of our comfort zones, tight hugs, belly laughs, class cars, fast anything, fine art, silk, cashmere and latex.
First and foremost I'm an avid sailor, equestirian, voracious reader, scuba diver, & expert international traveler.
I have a passport with pages of stamps and visas, a few languages up my sleeve. With a never-ending tick list of places to see.
Even if you're far away, don't hesitate to contact me about a trip you'd like me to join. There's nothing more exciting than a foreign rendez-vous; with me as your guide.
I always impress at any occasion.
My most daring trip alone; to meet an established friend in Istanbul. That may tie with Rio de Janeiro; both are extremely dangerous. Of course, I am well protected by responsible gentlemen.
Expectations
••• Contact for Availability & Tributes•••
Communication-
First Impressions Last a Lifetime:
Please note that I am not able to reply to explicit or one liner messages.
First impressions set the mood for our date.
Real men make plans.
I value my privacy, and respect yours. Please treat me with the same courtesy.
I would appreciate providing me with enough information about yourself and your expectations towards our adventure.
The people I choose to spend time with are intelligent, articulate, cultured, well groomed, and as discerning as I am.
Including a little information about yourself in your introductory text/email; will help set you apart as one such person.
I can't wait to know the real you – I want you to be the adventure I'm looking for.
Here's some help to get my attention:
I will create a romantic space with you to explore together – take me to the places you don't share with anyone else.
No one liner text/emails
Introduction by text or emal include;
Details about our date; where & when
A little about yourself;
Age, ethnicity, education and occupation; to ensure compatability.
I form genuine connections and friendships.
Availability:
Outcall fine hotels, homes, yachts, or international destinations
Incall located in Brickell
Real men/couples plan dates
First Impressions Last a Lifetime:
I would appreciate if you provided me with enough information about yourself and your expectations towards our adventure.
The people I choose to spend time with are intelligent, articulate, cultured, well groomed, and as discerning as I am.
Verification:
All new friends will have to go through a pain-free screening process.
Please help me!
Transparency is the key to a succesful date; where I feel at ease meeting you for the first time.
Standard first texts, contain all imperative information with the LinkedIn.
(Most new friends email from work on first contact; law offices, government offices, businesses.)
Contact Info
Contact
Information
Add Nicolette Ferrara to...