+

Bohemian, Free Spirit, Adventurer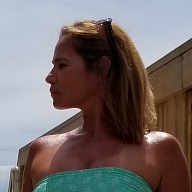 " Some of the best moments in life are the ones you can't tell anyone about."
One life, Have Fun! Be safe but, step out of your comfort zone. It will be our secret :)
It's a New Year!
I have expanded my location to Naples Florida and Marco Island
I have returned with a wonderful view on life and the art of Tantra!
*January 25th until February 8th 2021*
I will explore parts of America with friends and family. Until we meet stay safe and explore! One Life. Make it count.
If you would like to stay in touch and get to know one another, don't hesitate to reach out to me. Or, stay connected via social media as well.
I will share why I love the Art of Tantra and more…
" When the sleeping Goddess is awakened, through the grace of the teacher, all of the subtle lotuses and mundane bondages are pierced through & through. The wise person rises willfully and firmly to the Goddess, as it is she who gives miraculous powers to all.
~ Shiva Samhita
The art of Tantra is all about letting go and exploring the body.
In these precarious times, I have been mindful. I ask the same of you.
Let's be safe, mindful, and explore the body and activate our senses together.
I am Discreet and loyal; I ask the same of you.
Are you ready to explore the five senses?
~ Christina
The Look
Christina is a 5'4", curvy caucasian woman with shoulder length blonde hair and hazel eyes.
She is available for Male only.
Interests
My passions are;
Being in Nature, Hiking, Traveling, and exploring off the beaten path leading to cascading waterfalls with a clear pool of quenching water to activate your senses. "Ahh, the simple pleasure of life."
Explorations on my To-Do List:
Scuba Dive in the Caribbean
Tandem parachute in the most majestic locations
Snorkeling in the clear blue waters of the Atlantic
Swimming with Dolphins
My favorite gifts that I have received Are all things to do with Traveling and explorations of this earth.
Special Gifts;
Travel in style
Motorcycle/ BMW 300
Jeep Sahara 4 door
Professional Camera and Video Equipment so that I can document my travels. I am a writer and nature photographer. Any gift in the genre of the arts is always welcomed.
(Now that you know a little about me
Reach out and share a little about you)
I look forward to seeing you very soon!
Expectations
Email is preferred. Please do not call I will not answer.
Texting is fine.
I want to read in detail what your exploration feels like
I am very discreet therefore I ask that you email me then I will provide the screening information before our time together.
I can't wait to hear your voice and to finally meet you!
~ Christina