+

Pets, Sissies, and Submissives, We Need to Meet!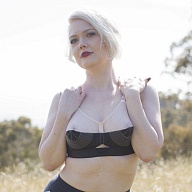 Model, Mistress and maker of mischief - now with 100% more mischief!
The Look
Denali Winter is a 5'8", curvy, all natural, 25 year old caucasian woman with short platinum hair and blue eyes.
She is available for Men, Women, Couples, and TV/TS.
Available for weekday sessions in the East Bay and San Francisco!
I am Denali Winter. My chosen title is 'Mistress,' but My bright eyes, and ample curves often inspire My followers to greet and worship Me as 'Goddess.' I have been an active, professional BDSM practitioner for over four years, honing My many skills and creating My own unique blend of cruelty, affection, and playfulness.
I put My mind fully into My work, constantly coming up with new implements of merriment, fantasy scenarios, or tasks for My submissives. I put My full body into My work, using My weight to move you and hold you in place as I bind you, to tower over you as you cower before Me. I put My heart into my work completely, using My heightened senses in scene to stay constantly aware of your safety, guarding you, guiding you along this path of kink.
As a femdom video actress, I have learned the art of performative play; setting up a scene and creating an experience that all involved will remember for years to come. As a BDSM site webmistress, I have learned what men truly crave, seen the supply and demand of our stigmatized world. As a fetish model, I have crafted many roles, personas, and fantasies to entice and inspire My fans. All of this contributes to what I can bring, what I can create during our time together.
My play style is teasing, taunting, yet encouraging. I do not seek to break down My submissives unless that is what they truly need. My tone may be condescending and cruel, My delighted laughter may seem humiliating, but I am taking immense joy and pride in your pleasure, and fulfillment, as it may be. I can be a trainer, a teacher, a drill sergeant, a maternal figure, a tormentor. I can be mean, I can be ruthless, I can be mischeivous, I can be playful. I am strong in both mind and body. I can bring fantasies to life.
Truly, I am happy that you are here. To deny oneself pleasure is to suffocate the soul, allowing repressed urges to create negativity that leaks out into your day to day life. Feeling the sweet relief of being in the presence of someone who does not judge, who can care for and nurture those feelings, is an invaluable experience. It is this Mistress's sincere hope that all people get chances to express and explore themselves in a safe, but thrilling environment.
I am 5'8", with chin-length silver-blonde hair and pale skin. I have piercing blue/green eyes, long, natural nails, and a waist to hip ratio that has sent more than a few men straight to their knees in worshipful admiration. My soft body and strength combine to make Me a Mistress to tremble before.
If you wish to visit Me, you may send a thoughtfully written email with the following information:
Your name, or what you prefer to be called
Your main interests in serving Me
Desired date and time of session
Contact info for previous Dommes / Providers you have seen, if any
Please remember that My time is valuable. Short, spammy messages or messages that are disrespectful to Me will not warrant a response of any kind. Letting Me know a little about your history and any relevant health issues will make our time together more enjoyable.
New friends should plan to see Me for no less than an hour and a half. I look forward to indulging you and enjoying your company!
Interests
I have many ways I like to play, including:
Sissification, crossdressing, forced feminization, makeovers
Pony play, puppy play, pet play
Maid training, service training
Body worship, foot worship
Strict / cruel Mistress roleplay
Impact play, spanking
Interrogation
Human furniture, objectification
verbal humiliation / degradation
Head shaving, waxing, hair removal
Double Domina sessions
Soft/sensual domination
ABDL, Mommy play, ageplay
Device bondage, unusual / extreme bondage, full body mummification
Cosplay, fantasy roleplay

…But there is much more.
Expectations
All email contact must remain polite and professional or I will terminate our acquaintance. I check references and require deposits for sessions. My rates are non-negotiable.