+

Femme Fatale for Esoteric Companionship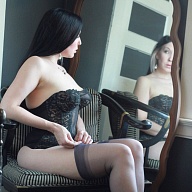 "She is the personification of gunpowder and pink peppercorns, a sharp knife and silk stockings, dahlias and fish scales. She will leave you aching for another bite, if you don't mind the marks…"
Have you longed for a siren/ dark muse to be in your clutches for a day (or more), with a penchant for vintage lingerie, fetish-focused playfulness, and a searing wit?
Doesn't an afternoon or evening of feasting together, admiring the glow of a fire, or a splash in a sun-warmed pool, musing over plates licked clean (on all fours, even?), wine (or a good scotch) on the tongue, and heels and necktie strewn across the floor just sound magical? - I would love it if we made such a proposal reality! Or, let's be each other's arm candy out on the town, to enjoy sidelong glances across a table littered with the remnants of your favorite restaurant's dishes that you've long wanted to share with another person, gypsy jazz making the air wet with sound.
I will be sure to dress exquisitely for the occasion, with vintage stockings and a kiss of leather, fur, or some other smartly teasing textile to flirt with our senses. Our conversations can then stray from how we've nourished ourselves to how we'd like to pursue our second course of action, with our mutual comfort and understanding made clear before anything gets too heated…
How might we cross items off a list of sensual and thought-provoking activities that you would like to create for your life? I am ready for our journey together, and I welcome your company.
The Look
Nerine is a 5'6", curvy, all natural, 27 year old caucasian woman with long black hair and green eyes.
She is available for Men, Women, Couples, and TV/TS.
Interests
Being from SF, I spend much of my time revelling in nature on one of the wistful, ebbulient beaches of the California coast, or dressed to the nines for the Symphony, or, more playfully, dipping into an evening hot tub under the stars wearing little more than a smile. I would be thrilled to share an adventure of the senses…And of course learn all about yours :)
I am scuba certified, and -love- the magic of the ocean, even fancying myself a mermaid. My wetsuit doesn't get nearly enough attention, though- it's jealous of my latex :)
When feeling more deviant, I am often found at adult parties in the San Francisco bay area, engaging in consentual exploration of more subversive proclivities.
Tactile things and memories that get me excited include vintage silk, leather, rubber, fur, a good pair of heels or boots, a sharp knife, hemp rope, the warmth of velvet, raindrops falling into a mug of hot chocolate, listening to the wind push against windows during a storm, errant fingers trailing along the inside of an arm or thigh, warm cake with melted ganache, the sensation and smell of the pages of an old book…
I'm a sucker for a good suit, intense eyes, a willingness to explore new things, smiles that will stop traffic, and deep intellectual conversation.
You will find me as comfortable in a vintage dress and backseams as I am in a hoodie and jeans. And, in regards to kink and BDSM, I can find a playful role on either side of the paddle, though I tend to enjoy being the dominant companion of your dating fantasies. If you can tame me, I might let you spank me…
A window into some of my interests is further found on my Amazon wishlist, if you'd like to view it here:
Expectations
When introducing yourself, please tell me about your interests, previous experiences, and concept for our time together. A work-verified email, or LinkedIn is a great addition to this introduction. An email or a quick phone introduction is a fantastic start to what I can only assume will be an effervescent connection.
Same-day bookings are sometimes available with a few hours notice…
My availability is most open/flexible in the San Francisco Bay Area, but I'm also only a plane ticket and a carry-on away, should you live in some far off place…
It is an absolute pleasure to offer an asiette of skills for both singles and couples of all genders, and I am well-versed in alternative lifestyle relationships with absolute discretion and understanding. For couples considering pursuing an unforgettably sensual, gourmand experience, please note a 200$/hour fee in addition to the information below.
Would you like a taste?
Mutual amuse, connecting over a drink or light fare: (1 hour) 400$
First course, finding revelry in our mutual interests: (2 hours) 1000$
An afternoon or evening, indoors or out: (3 hours) 1500$
An afternoon or evening, indoors or out, personal chef-inspired creativity included: (3-4 hours) 1800$
A feast of the senses, in the sun or under the stars: (up to 12 hours) 4500$
Three day weekend, here or there: To be discussed with those who I've made a prominent connection with.