+

Somewhere Between Sophisticated & A Free Spirit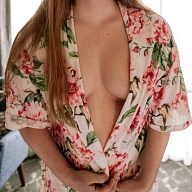 An early 20s, curvy brunette who seeks new experiences and to share herself. I am college educated, down to earth, and open minded. I enjoy genuine connection and am giving of my time and myself.
Hello, I specialize in providing genuine connection! I'll be there for you in any way you'd like me to be. Whether that is a confident to talk to or a more than willing recipient to help relieve life's burdens and stress. Life is something to enjoy, to the fullest extent, and in the right company. I'm a fulfilling person, comfortable within my own skin. I can be reserved but, I'm also willing to bare all for the right person.
So, who am I? I'm a psychology student living in the greater DC metropolitan area. I am down to earth and a very open person. At my core, I am genuine and seek to live in alignment with who I am as a person.
My ideal man would be someone who is respectful, can hold a conversation, and open to new experiences. When I'm comfortable with you, I'll open up and we can explore each other. I don't expect perfection or someone who will tell me everything they think I'd like to hear. I want you, as you are. The most attractive thing is someone who simply is and is unapologetic about it.
If anything I've said resonates with you, then consider reaching out!
The Look
Madilyn Saige is a woman.