+

All-Natural, Intelligent, Elegant, Smiling Quaintrelle with Soft Curves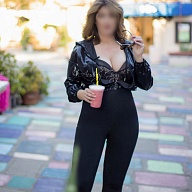 If I asked you to name all the things you love, how long would it take for you to name yourself? Email me @ audreygray@mailfence.com for my website address & password, so we can take care of YOU!
I Am:
A woman in her 40s who's enjoying life to the fullest
An avid world traveler who's hopped her way thru four continents
Unapologetically nerdy and hell bent upon studying life as I live it
A lady who lives to laugh. Fully. To. My. Core.
The messiest cook you'll ever meet!
A real friend interested in true connection without strings
I Have:
A website with more information, including rates, FAQs, a few more photos and more.
Soft, creamy skin mixed with a touch of Mediterranean olive pigment, free from tattoos & piercings
A vintage pin-up figure 8, complete with all-natural 38Gs
Big, expressive & sultry hazel eyes showcased thru long, thick lashes
Medium length, thick hair which can be tamed sleek as silk or left wild and curly, kept in shades of rich brown determined by the season
A sharp mind that makes all of the above qualities irrelevant
An advanced degree, per that sharp mind, from a top-tier institution
An easy going nature to put all at ease
An energy that knows how to meet introverts and extroverts at their preferred place
An innate ability to enjoy myself whether at a pig roast or black tie event
A warm, inviting smile I tend to bring out often
I Keep:
My toes and fingers well manicured and pedicured
My femininity groomed in all natural fashion
My makeup to a minimum
My mind and heart drama free
My full-time career in addition to hosting on a part-time basis
​
The Look
Audrey Gray is a 5'9", curvy caucasian woman in her late 40's with shoulder length brunette hair and hazel eyes.
She is available for Male, and Female.
Interests
I'm a nerdy foodie who enjoys travel, music, comedy, reading, writing, perusing art installations and museums, screaming at sporting events, and dressing up or down for whatever event you have in mind.
My biggest interest is in getting to know YOU.
Expectations
Let's keep it simple.
Respect yourself and me.
The end. :)