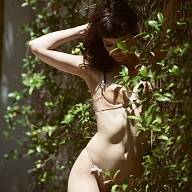 You spot my soft, petal-like curves backlit through rows of spirits and cut-crystal. Watching my toned back arch over a book, you can't help but wonder what would happen should you interrupt me from my laser-like focus.
You're like me.
You can see that through the dim light of the storied hotel bar. You're discerning, committed, and yet—haunted by a nostalgic wanderlust. Highly ambitious, you've made sacrifices, and though you're satisfied, you can't help but sense a yearning.
It's a deep and silent wish for an untethering of hum- dum trivialities. What might happen should you run your fingers through my inky black tresses, putting yourself largely at the mercy of the elements?
I feel it, too—after all, the desire to peer through the darkness is as ancient as civilization itself.
In my world, there's no need to stop simply at wishing.
My contagious, upbeat energy and delicate feminine features make a soft-landing pad for the true explorer. Serene and elegant, I'm often complimented on my chameleon-like versatility and quick-wittedness.
I learned an earthy humility as a child born to the idyllic midwest, where I spent quiet, pine-scented nights marveling at the vastness of what-else-might-be-out-there. Perhaps together, we can do some discovering.
As convicted, serious student fervent about maintaining her 4.0, you might find me bookish, discerning and driven.
You might also be surprised to discover that I possess an undeniable giddiness as you find yourself pouring glass after glass of stony white wine. During our first encounter, my pixie-like frame and pale, buttery skin pull you in.
I touch you softly at first, my big green eyes glittering in the supple glow of our first meeting. Less a tiresome transaction and more a cherished ritual, my time with you manages to feel simultaneously serene and jovial.
Rest assured that when together, there will be cause for celebration—whether we find ourselves wandering the rickety streets of Santorini connected by criss-crossing laundry lines, or in the high grass of the California hills indulging in a mid-day rendezvous.
The Look
Zoe Prince is a 5', slender, 25 year old caucasian woman with shoulder length black hair and green eyes.
She is available for Male, Female, Couples, and Trans.
Interests
Travel, literature, writing, pop-culture, media, video art, theatre, fine dining, cooking, film. Also totally obsessed with kickboxing.
Expectations
I ask that you please respect my need to screen new clients for safety purposes.