+

Miss Umiverse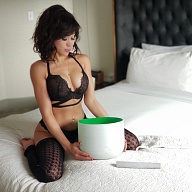 "If I were not a physicist, I would probably be a musician. I often think in music. I live my daydreams in music. I see my life in terms of music." Albert Einstein (1879-1955)
Greetings,
Delighted to welcome you. I'm so grateful you landed on my page. Something must have brought you here and as you read more I hope you will be further enticed by my practice.
Additional use of Cymatics in my practice has done wonderful and beautiful things.
For example, the study of Cymatics has shown how sound creates geometric patterns in matter.
Dr. Emoto has proven that sound changes the molecular structure of water. However, more importantly, sound changes consciousness.
My intergrated tantric sound offerings are designed to help you simply let go, relax, and recharge, naturally and luxuriously.
I welcome you to the Enigma of Greatness
$888 180min
$777 120min
$555 90min
$444 60min
*Packages are also available! Please inquire.
Master Package $2200
Gateway Package $1100
My lovely sanctuary is luxurious, calming, and uncomplicated.
Located in Soma~Mission Bay.
Easily accessible by multiple modes of transportation. Just blocks from Caltrain, I-280 and the T-Muni Metro line.
Schedule 9am-7pm Mon Fri with limited availibilty weekends
The Look
Umi is a 5'2", slender, 23 year old asian woman with short black hair and blue eyes.
She is available for Male only.
Interests
Sound Healing, through various techniques and technologies, is the educated and conscious use of the energy of sound to reach identified goals and promote wellness and balance in the human system – including the expansion of consciousness.
Sound Healing is founded on the premise that all matter is vibrating at specific frequencies. Science has proven that sound, or vibration, has a strong impact upon substance.
The beauty of using a mantra (sound) is that it has no meaning for our literal mind. It surpasses the logic and our neccisity for meaning. This vibration transmits greater vitality for it is meaningless to the functions of the intellect. (ego)
LOKAH SAMASTAH SUKHINO BHAVANTU
"May all beings everywhere be happy and free, and may the thoughts, words, and actions of my own life contribute in some way to that happiness and to that freedom for all."
Expectations
Please email me
Sat Nam