+

Empathetic and adventurous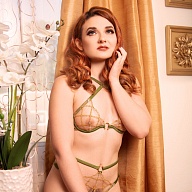 Petite, porcelain pixie. Adventurer and empath
My round green eyes transfix you. They glow with intelligence, compassion, sensuality, and mystery. My tranquil aura embraces you, and you sigh, as your stress dissipates. As we get closer, you can sense the sparks igniting our connection, and I gently touch your hand guiding you to a world of excitement and freedom.
My curiosity has evolved me into a deeply intellectual woman. I have degrees in computer science and linguistics from an esteemed university, and as a lover of humanity, I know a good deal about anthropology as well. Nothing is more exciting than getting absorbed in deep conversation. As we exchange ideas, our minds grow and our connection deepens.
Beyond my curiosity and intelligence, my defining characteristic is my empathy.
I have a gift and a craving for human connection. Strangers tell me repeatedly that they feel more comfortable with me than some of their closest friends. I possess an open mind an unrelenting optimism that drives me to discover and appreciate the best in everyone. Humanity is beautiful and complex, and more than anything I strive to understand you, appreciate you, and nourish the burgeoning connection between us. As an experienced partner dancer, I understand the power of touch, which can heighten this connection to electrifying levels.
My life fell into place when I became a provider, and gave my gift purpose and meaning. When we meet, I do not put on performances. The bond that develops between us in the course of a few hours or a few months is completely genuine. There's nothing more fulfilling than seeing you relaxed and smiling. Together we will escape reality, renew our spirits and create a beautiful, memorable experience.
The Look
Sophia Skye is a 5', slender, 29 year old caucasian woman with long red hair and green eyes.
She is available for Male, Female, Couples, and Trans.
Interests
Dance is one of my favorite forms of human connection and self expression. I've experimented in all forms of dance from contact improv to salsa.
I am a free spirit and love hiking, rock climbing, scuba diving and traveling.
I also enjoy relaxing with an engaging non-fiction book. Anthropology, cognitive science, and physics are some of my favorite topics. Let's engage in some deep philosophical and academic conversations. Stimuate me with your mind.
As for gifts, I always appreciate those contributing to my lingerie obsession. Fine chocolates/truffles, bourbon, or Lush bath bombs are some of my favorite indulgences.
Expectations
I am based in SF, tour frequently, and I am available to meet you anywhere in the world. I love exploring other cities!
To get a better sense of my personality, check out my blog and twitter accounts.
Please view my website for the expectations of our engagement.
When sending your initial email please include:
1) Your screening information either: a) your employment info including a photo b) references from 2 providers you've seen in the last 6 months c) your P411 ID.
2) The details of our engagement: when you'd like to meet, where, and for how long
3) A little bit about yourself, so we can get acquainted. Your personality, hobbies, interests, appearance. Anything you think would be worthwhile to know
Looking forward to meeting you!