+

Give yourself over to the soul-deep nourishment that is your pleasure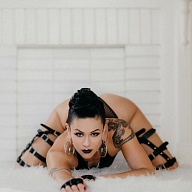 A Feast for the Sensually Decadent
I want to feed you - or rather - I want to leave you nourished…contented…more full than you were before we met. But I also want to leave you hungry…imprinted with the memory of my words, the smell of my skin, the strength of my hands, and the exquisite marks of my artwork upon your canvas.
Of my many gifts, my greatest is my ability to help you feel at home in your sensualist nature, at ease in your cells, and at peace with your pleasure. I delight in curating experiences that inspire, nourish, and push the limits of what you once understood pleasure to be.
With the pace and stresses of modern life, it is all too common that the worlds of magic and sensuality within us become neglected or dormant. I believe that rekindling the connection with these wild parts of ourselves is vital to our overall health and wellbeing. Consider our time together a counterbalance, a welcome escape, a spark to ignite your dark corners and shadowy depths…a way for you to come home to yourself, again and again.
I provide an array of delicious experiences, from luxurious bodywork to decadent Domination. Visit my site to learn more about my practice and my many unique offerings.
I look forward to meeting you.
Warmly,
MK
The Look
Morganne King is a 5'7" 35 year old caucasian woman with short black hair and hazel eyes.
She is available for Male, Female, Couples, and Trans.
Interests
I center my everyday life around wellness, sustainability, and pleasure.
From lavish meals to indulgent skin care regimens to intentional meditations via the art of flower arranging, I find the greatest delights in all things epicurean and self-care oriented. I regard the living of life as the greatest masterpiece of all, and I work hard to curate a personal world of beauty around me.
I find art in the preparing and savoring of food. I love fine teas, raw plant-based confections (especially chocolate!), and the occasional nerdy craft cocktail. I love to be treated to exquisite meals and know many fine establishments in the area for a glorious brunch or latenight dinner.
A devoted student of the body, I've dedicated the greater part of my life to fitness and movement practices of many forms. I currently spend several hours a week in the gym, building a powerful and agile vessel - fit to be worshipped, and fit for the zombie apocalypse, should it come. I care for my body ferociously so I love spa days and bath houses, and healing modalities from massage to cupping to electro-acupuncture. And of course I regularly indulge in fine skincare products to keep me at my most radiant.
I allow my vessel to be a canvas, and take pride in my adornment, whether it's unique artisan-crafted and vintage jewelry, or the addition of a new tattoo to my growing collection. Dressed down I love designer activewear, and dressed up I love latex, leather, and avant garde fashions. I especially covet the creations of Creepy Yeha, Jivomir Domoustchiev, Sasha Louise, Fleet Ilya, and HOS Leather.
I adore warm weather and relish any opportunity to travel to warm climates. My current travel destination wishlist includes Santorini, Bali, the Domincan Republic, Bora Bora, and multiple destinations in Australia.
Expectations
ETIQUETTE:
I value our time together, and put a lot of care into curating each experience. I am shown that I am valued when you show up with impeccable hygeine, devoted respect, and your tribute in a sealed envelope to be placed in plain view upon your arrival.
BOOKING:
My current hours are Wednesday - Saturday, 11am-10pm.
If you'd like to spend time with me it is most ideal to book at least 24hrs in advance. I life a full life and only take a limited number of engagements per week, so the more notice you are able to give, the more likely we will be able to meet on a day and time that works well for you.
Incall sessions are held in a private studio in Berkeley, CA or a beautiful dungeon in Oakland, CA. I offer outcalls to reputable 4 and 5 star hotels in San Francisco.
I book via TEXT and EMAIL *only*, so please refrain from calling, as you will not be able reach me that way.
To ensure a reply to your correspondence, is necessary to provide the following information *in your initial correspondence*:
• Your full name, age, and phone number
• Screening info
• Type of session you are booking
• Incall or outcall
• Preferred day and time
SCREENING:
Screening is mandatory for all new friends. In your initial contact, please be sure to provide one of the following forms of verification:
Reference:
1 or 2 recent reputable references (must include their contact information AND their website/ad)
*OR*
Professional:
This includes one of the following…
A company website that has your name and photo
A well-established LinkedIn profile
A blank email from your work email address (email address must be identifiable as your name and company)
A photo of your work ID
Along with…
A photo of your ID (you are welcome to cover up your address for privacy)