+

A Sagittarius woman is a woman of many faces, all of them are smiling.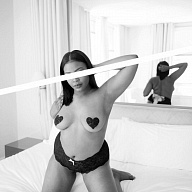 You know what's really, powerfully sexy? a sense of humor. A taste for adventure. A healthy glow. Hips to grab on to. Openness. confidence. humility.
The Look
Naomi Jade is a 5'6", curvy, all natural, 23 year old black woman with shoulder length black hair and brown eyes.
She is available for Men only.
Without Appearance There Is No First Meeting. Without Passion There Is No Second Meeting, Without Chemistry There Is No Third, Fourth, Or Fifth…
Hello and Welcome to the Naomi Jade experience…I'm very flattered that I caught your interest, If the sound of intense chemistry and soulful exploration with a sensual, attentive and exotic woman entices you… Look no further because we're halfway there.
The Experience. What gets you going?
I am very passionate about what I do, your happiness and comfort will always be the focus. During our moments shared together, I aim to provide a memorable, relaxing, and satisfying experience. Never rushed nor mechanical, I am here to treat you like a king. Perfect for a man who craves interaction with an unpretentious bombshell, and is looking to make a genuine connetion. Your happiness is most important to me and I truly enjoy getting to know you. I value my privacy as much as you do, You can be assured your discretion and confidentiality is guaranteed on our rendezvous.
The Lady. Naomi
Think of me as the universal word for indulgence, I'm an exotic mix of Jamaican, French, and Native American. Delightfully silky bronze toned skin complimented with beautiful curves in all the places you desire. I possess illuminating almond shaped eyes, the thickest thighs, and the most enticing smile that will melt your soul. I am a sensual women who has an outstanding mixture of a calming energy and charisma. Through my education and life experiences you will find me to be intelligent, optimistic, and wise beyond my years. I am a refined and cultured young lady in my early twenties whose diversity leaves me open to a variety of adventures and settings. Growing up in the city of Berkeley, a melting pot of Art, Music, and Culture I became a one people loving, knowledge seeking, open minded individual with a knack for making new friends. A few words to paint a picture of me: Unpretentious… Engaging…Light hearted… Funny…Adventurous… Feminine…Discreet.
About You?
My goal is to make genuine connections with interesting, and generous men who will also broaden my horizons. I just ask that you be a gentleman and everything else will unfold effortlessly. My needs are your needs… You and I together, exploring our vulnerabilities…seeking a level of satisfaction that springs energy to life through an affectionate encounter. Trust, mutual respect, and the utmost discretion are paramount for our unforgettable experience. you can be assured that you will be spending time with a genuine, uplifting woman who will put you at ease from the moment we meet.
Delightfully yours,
Naomi
Interests
I love to indulge in all the beauty that life has to offer. From sitting and conversing on a gorgeous beach, in a park admiring the beauty of nature, or being adventurous enjoying some of my favorite outdoor activities such as; boating, horesback riding, hiking, and traveling.
I have a willingness to connect with new people and believe there's nothing more exclusively unique than making new and personal relationships. I appreciate art in all it's creative forms and have complimented my body with such. If your not the outdoorsy type, let us enjoy visiting museums, live shows, quite time spent reading the latest novel, dining at culinary hotspots, or you and I cuddling up by the fireplace having a glass of wine. I'm a simple gal a bubble bath can do wonders!
Expectations
Prior To Contacting Me
I ask that you read my website in its entirety.
Screening & First Steps
Please note that all information you provide to me must be verified before I accept any liaison with you. I ask that you provide your full name, employment information and/or provider references. when and where you are hoping to meet, and how long of an engagement you would like to book.
Booking
I do require prebooking for any engagement. If you are a new friend, I prefer that our first meeting to be at least two hours long, so we can properly get to know each other. No matter how we decide to share our time wheather we its coffee, dinner, or a walk on the beach, I value your time, and I apreciate you chosing to spend it with me.
1 hr $450
2 hrs $800
3 hrs $1100
4 hrs $1500
Each additional hour + $400
Overnight $3000
24 hrs $5,500
Availability
Mon-Friday 6pm-11pm.
Sat 9am-9pm
Sun - unavailable
if you must cancel please be respectful and give me as much notice as possible