+

Catch Me While You Can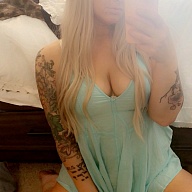 some of the best moments in life are ones you can't tell anyone about
You live in a fast paced world of instant gratification, communication, and people needing pieces of you all the time. They take, you give. One thing to the next. Flash, flash, flash…like cards being dealt too quickly to keep up with the game. Maybe you're tired, anxious, stressed…or hell, maybe you're all three. Stop.
Close your eyes. Take my hand. breathe in. Open your eyes and look into mine. Let go. Relax.
Very rarely do we take that important second to just breathe, plan indulgences, and set aside precious moments for self care. Even less often do we give ourselves the things we enjoy, love, and miss the most. We get one life to enjoy as much as we can. It is time to stop wanting. It is time to stop needing. It is time to start having. Let me teach you how to care for yourself the way you should have from the beginning . Life and happiness are about balance - let me help you find yours.
The Look
Michelle Moore is a 5'7", athletic, 34 year old caucasian woman with long blonde hair and blue eyes.
She is available for Male only.
Presentation
Feminine
Interests
I freely admit I can also be quite (very) silly, and will do my utmost to make you laugh. If you are a wielder of puns and jokes that make people groan, we will get along famously. Wit, charisma, and compassion go much, much further with me than good looks, by the way.
Expectations
2 hours - $800
4 hours - $1500
8 hours - $2000
12 hours (overnight) - $2500
plus $50 for local outcalls
plus expenses (airfare) for travel out of the area