+

When was the last time you found the wild?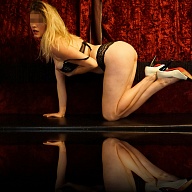 If each day falls inside each night,
there exists a well where clarity is imprisoned.
We have to sit on the rim of the well of darkness
and fish for fallen light with patience. -Pablo Neruda
I'm in front of you, sparkling eyes and a mischevious smile. Warm & candid conversations take your mind away from the stress of the week. You've told me all that you desired, but your heart still races…
Why be nervous? The only tangible reason is that you've given me the most valuable thing. Your trust.
And I promise to use this trust wisely. To listen compassionately. To melt away lonliness, heartache and bitterness.
***
Though I'm new to Slixa, I am not new to exploring deep, dark dreams and letting them live in the real world. Some call me therapist, others sorceress. I will see the scars of your memories and triumphs of your accomplishments. I will transform what is just a figment of your imagination into something blissfully sweet. You will leave with a little less weight on their shoulders, with a little more appreciation for the small things in life. Perhaps, if you're truly present, a huge emotional burden will be lifted. All in all I am an expert in traveling the wilderness, the world of your heart.
The Look
Liska Wolfe is a 5'6" 29 year old caucasian woman with shoulder length blonde hair and blue eyes.
She is available for Male, Female, Couples, and Trans.
Interests
I have an Ivy League degree that took me to the loneliest mountains in the West coast and the most difficult neighborhoods of Oakland. My free time is a reflection of those: backpacking, kayaking, spending quality time with trustworthy friends, enjoying concerts and being an activist. My gift is the ability to walk between the wildernesses, whether that's the boardroom, the bodega, or the blue yonder. I hope to be taken to yours.
Books & Authors
Pablo Neruda, Ester Perel, Dale Pendell, Lee Harrington, The 100-year Old Man who Jumped out the Window, Native Son, Pleasure Activism
Museums
Museum of Modern Art, DeYoung, Conservatory of Flowers, Oakland Museum of California, SF Botanical Gardens
Places I've Traveled
Pacific Northwest, Southwest, Northeast, Alaska, Hawaii, Sierra Nevadas, Ireland, Portugal, Azores, Brazil, Israel, Cyprus, Czech Republic, the Caribbean. I would love to see Japan!
Sports
Downhill/Backcountry/Cross-Country skiing, windsurfing, kayaking, mountain/road biking, hiking, backpacking, rock climbing, kick boxing, yoga.
Music
Leonard Cohen, Johnny Cash, Kavita Shah, Thais Morell, Nina Simone, Gabriel Garzon-Montano, A Perfect Circle, Streetlight Manifesto
Expectations
A deposit of $50 (90 min or 2 hour) or $100 (3 hours) is not included in the price. I have a 48 hour cancellation policy. See my website for pricing.
My hard limits, enjoyments and values are expressed on my website as well.
At this time I only do incall sessions in both Oakland & San Francisco. As we get to know each other better we can begin to make decisions about outcalls.
I will meet up for dinner dates in both Oakland & San Francisco. This is also a great way to add onto our time together! Tips and meals are paid by the client.
I understand it is daunting to give out your personal information. Due to security and safety, it is common practice for me to call businesses, request photo ID via email & in-person, look at websites and check LinkedIn profiles. I use a vanilla name and profile for all of these screen checks and have my LinkedIn set to the highest security settings available. Please make further requests in the booking form on the website as well about your privacy.