+

Evalyn King - Persian & Puerto Rican Exotic Delight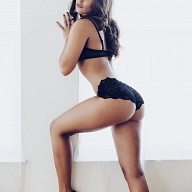 "It has been my experience that folks who have no vices, have very few virtues." — Abraham Lincoln
Welcome to Evalyn King.
I can tell I have piqued your interest, so sit down and stay awhile, I have much to tell you and I can tell you have much to tell me. It is often said that those with the most power are those who take risks and take advantage of every opportunity.
Your opportunity to have it all is finally here. And what exactly does it mean to have it all? Let me tell you…an exotic middle eastern and puerto rican goddess With intense green eyes and a captivating spirit to match, you will be lost in each second, wrapped in long lasting connection. I was made for this, made for you…let us imbibe and enjoy this adventure together.
You watch me, sultry, intense and enchanting as I relax on the chaise, martini in hand, green eyes piercing through to your soul. You feel shaken. Is this it? Could this be the connection you have been looking for?
It is darling. I have risen from the sands of crystal seas from where my ancestors came to be here with you, today, in all of my glory. What adventures will we have today? A relaxing dinner in? A jaunt around town? An escape to an unknown destination? That, my companion, is now up to you, but whatever we do you will find yourself matched with an erudite scholar of both beauty and wit. I dare you to step out…take a risk on this adventure, for you will not be disappointed! After all, you know this is too thrilling of an escapade to pass on. Will you be so bold as to deny me of your presence?
We rise, pulsing in harmonious symphony. How is it, to be this in tune with another creature? You are incredulous. But to believe is to see. You reach out to touch my form, to make sure the incomparable beauty before you is, indeed, real. I assure you, it is. Let me fill you up with my rich laughter and overflow your mind with an intensity that will send riveting sensations straight through you. Let us search each other until we can stand it no longer. I find you invigorating and I yearn for you…I crave for you…Why else would I choose you for this adventure of mine…?
So what will it be tonight? Take a hold of this opportunity! Grasp it firmly and strongly—don't let it slip you by or you could miss it! Your exotic and delectable delight is here and our adventure has only just begun!
Here's hoping you will be my next adventure…
Until then,
EK
The Look
Evalyn King is a 5'3", slender, all natural, 25 year old latina / middle eastern woman with medium length brunette hair and green eyes.
She is available for Men, Women, and Couples.
Interests
Traveling (local, domestic, and abroad)
fashion & design (my personal style is very casual, reminiscent of the 90s, but I usually dress casual chic for appointments or classy & upscale when requested)
fixing up houses/remodeling and interior design
race car driving
exploring and adventuring (kayaking, hiking, rock climbing, sky diving etc)
the arts (museums, opera, ballet, theater etc)
dining experiences (new venues, wine etc)
Expectations
Availability:
Sun. to Thur: 11am to 10pm
Fri. to Sat.: 11am to 11pm
Please view my website for rates & etiquette policies. Please read FAQ before booking.
All clients must be screened. I am very sought after and I only see one client per day.
Priority is given to clients I have seen before, clients using ProtonMail, clients who use the booking form and clients who have references and/or deposits.
Thank you! Can't wait to meet you soon.