+

Indulge in an Exquisite Tantric Dream with a fiery European Redhead Goddess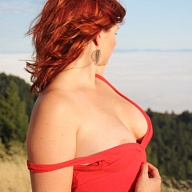 There is no greater agony than bearing an untold story inside you!
Hello ladies and Gentlemen,
As a Yoga instructor, talented CMT and passionate Sensuality Coach I offer my clients a calm and safe space to explore my mentoring, counseling and teachings in spirituality and sensuality.
I was born and raised in Europe and grew up in a small town. After several years in the corporate world and in an unfulfilling marriage I knew there had to be more for me. I decided to mix things up and leave everything behind.
I traveled the world for 18 months by myself on a quest, exploring the most beautiful places, meeting amazingly interesting people and experiencing the most epic and magical moments of my life.
Ever since then I have been studying human sensuality, Yoga and the Tantric Texts, Ayuveda and Somatic therapy.
I've dedicated my carrier to coaching you in becoming the fulfilled, centered and most alive person you can be!
Every session is as unique as you!
Much more engaging than a typical talk session, my work combines therapeutic counseling and Tantric energy practices , allowing you to feel deeply understood and empowered, lavished with abundant affection.
We will talk, touch, laugh and sometimes even cry. Emotional release is embraced and lovingly welcomed.
I blend a mix of sensual and therapeutic experience that will expand your mind and body in a way you never experienced before. You will gain an experience of yourself that challenges your deeply-held beliefs and assumptions about the way things have been for you, inviting in bold new potentials to take root…
Although we use sensuality as the medium, this work is deeply transformational in nature, creating powerful changes from the ground up.
Together we will create an authentic, therapeutic relationship that provides the container for your growth, nourishing you and reinforcing the positive momentum you're creating for your life.
Are you ready to dive in?
I work interactively with men, woman and couples, empowering you to discover your radiant confidence and to explore the deep, delicious dimensions of your sensual nature.
I see myself as an advocate for healthier sensual relationships, attitudes and experiences. I will be your teacher to pure relaxation, new wisdom and inner strength.
I provide only the highest level of service, care, and attention. I am truly exited to get to know your unique character and your wildest dreams. Let's create an unforgettable experience.
The Look
Cloe Marie is a 5'6", all natural, 35 year old caucasian woman with shoulder length red hair and blue eyes.
She is available for Men, Women, and Couples.
Interests
I am offering beautiful Double Goddess Bliss sessions with my sexy friend Kimberly in Sacramento
IDreamOfKimberlee.com…
as well as with my sweet and sensual friend Maya in San Rafael
maya-azul.com
Please inquire for more details
Expectations
What to anticipate
Confidentiality is my highest goal. All your information and everything you share with me will be treated with the highest confidentiality and stays with me in my sanctuary.
As soon as you'll enter my space you will feel safe and cared for. I assure you all my presence and attention from the first moment of our interaction and will take my time to get to know you and your fantasies.
Every session is individually shaped to fulfill your needs and may vary each time.
I require an open mind to explore and learn. To let go and surrender to my offerings. We will discuss our individual boundaries in advance to avoid confusion and allow us to fully experience.
What do I require
Communication between you and I will be through email until I received your appointment request and the requested information.
I will provide you with my phone number and the address of my location as soon as I feel comfortable with our conversation and we agree to work together.
To ensure safety for you, and myself, all my clients have been screened and verified.
How to find me
I'm located in Midtown Sacramento in an easy to find, beautifully decorated and comfortable space with all amenities to make your Tantric Spa Experience unforgettable. I request good hygiene and will offer you everything you need for that in my spa.
You are expected to be on time and send me a text when you arrive and are parked. There is plenty of parking around and you will be sure to find a good spot close by.
Please be respectful of my space; treat it as your home, your place to arrive and let go.
I'm available by appointment:
Monday – Friday 9am-10pm
Please don't hesitate to inquire for same day appointments or weekend availabilities. Often it works out if you are a little
flexible.