+

Visiting Los Angeles This Week Only -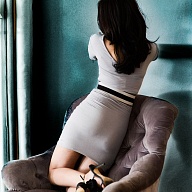 By scotch on the rocks and wild laughter, forget with me the Kafka-esque absurdity of real life for an evening.
Years ago at the Coliseum in Rome, I found myself looking up at a handsome Californian. He gathered my face up with his eyes and said a little wildly, "How come I've never met a girl like you before? All the ones I know just talk about makeup, their hair, and the mall."
I looked at him horrified and said, "You just gotta get the f*ck out of Los Angeles."
But today, boo boo, it's your lucky day. Maybe you can't take the LA out of the LA girl but the San Francisco girls have come to you. ((blushes))
My name is Amelie Martin and I'm traveling here to you in Los Angeles JUST for this Monday - Friday (December 14 - 18) with a few friends - Amber, Liara, and Scarlett.
What should this mean to you?
Every second that I am not in an appointment with you, I will be engaged in a week-long panties-only hotel sleepover with the three hottest females from San Francisco. We've already decided that the six hour drive to LA is "definitely no bras," and "bring your favorite spotify playlist for making out in the backseat, we'll rotate." Here's a sample from our Tuesday itinerary.
1:00pm: Rise and Shine, dumplings! Amber has been awake for six hours and has brought us lattes.
1:15pm: *~eAT~mArsHmaLLOws out of our CLEAVagE!*'
1:20pm: Oh no, Liara has spilled her latte all over her panties, guess we better strip down for laundry time!
1:22pm: Naked pillow fight! Scarlett and Amber start making out, like statuesque 5'9" bisexual gazelles. I size up Liara and say, "Huh. I can't believe there is actually somebody skinnier than me." Liara says, "And each of my boobs is as big as your head." "That's so true," I say sadly. Brightening, I say,"Wanna rub your biggies all over my ittybitties?" "Yes," she replies, and puffing out our chests simultaneously, we lock eyes.
*
Now where do you come into this, darling? Clearly it's a kind of cruelty to separate a provider from her panty party; therefore you should confer with your accountant as to the possibility of hiring all four of us for an hour or two as a set. Don't worry; we'll drink discount champagne.
If it is, by some odd chance, just me you seek, I will come to you (for you?), fully clothed, four-inch-heeled, serious-faced, intimidatingly coiffed, ready to mumble earnestly over a white tablecloth dinner about cab franc, terroir, and the bullsh*t inherent to the new space industry - if you promise to ignore the stray dab of whipped cream behind my left ear ? …
… Or lick it off ? …
Bonus points if you want to:
-take me surfing or sailing (I'll bring my wetsuit and my sexy West Marine foul weather overalls with the drop seat. I've always fantasized of being shackled in the bilges)
-ply me with a peaty scotch or French sparkling cremant (I like extreme minerality and secondary floral characteristics)
-take me to a museum (San Francisco tech nerds are all heathens and the SF MOMA is still closed, I'm dying over here)
The Look
Amelie Martin is a 5'5", slender, all natural, 28 year old caucasian woman with long brunette hair and brown eyes.
She is available for Men, Women, Couples, and TV/TS.
Interests
I'm a published author, serial entrepreneur working my way through the absurdity of Silicon Valley, newbie photographer fanatic, and co-owner/madam of HushSF in San Francisco.
I promise not to judge you for anything you ask of me as long as you don't mind if I say no, I have stunningly beautiful feet, I cherish extremely awkward and misfit men perhaps more than the handsome ones, (I just want you INTERESTING!), it would be my honor to accommodate your disability, and it is my most earnest belief that all pillow talk should also include wild laughter.
If I could take a machete to the last few points of my IQ I'd probably do it, but until then please bring me a good scotch neat and the Agent Provocateur with the most lace.
How do I look, daddy?
Expectations
600 / 1 hr
1000 / 2 hr
2000 / 4 hr
4000 / overnight
30,000 / book deal
10 billion / marriage
__
Privacy, Security, and Screening:
If you do not receive an email back from me within twenty-four hours, PLEASE check your SPAM folder. I use a very small email provider that does occasionally (annoyingly) get reported to overly-vigorous spam filter services.
My in-person discretion policy is to always be the hottest woman in the room who attracts no attention as to the appropriateness of her being there. When in doubt, I choose a shorter heel height or a more conservative cut.
With me you are as safe as it gets, and I would love to meet you this week. Darling, email me!