+

• Cheeky Bon Vivant • Cerebral Smarty Pants • Foxy Femme Fatale •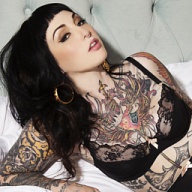 The constellations of illustrations, etched forever in alabaster flesh, are a treasure map for you to follow with hungry fingertips, tracing paths to the secrets we will share…
The Look
Adahlia Cole is a 5'2", curvy, all natural, 28 year old caucasian / middle eastern woman with long black hair and grey eyes.
She is available for Men, Women, Couples, and TV/TS.
Hello Perfect Stranger,
I want you to reach into the vaults of memory and recall the first blush of adoration you felt for the fairer sex, the strength of your desire and yearning for her touch…when was the last time a lady truly stoked the fires of your imagination, made you heart quicken and your blood rush? I want to take you back to the square root of electric hunger, of feral hope, and wild elation.
I want to inspire you…
to galvanize you to great heights of joy…
to grant your wishes…
let me be your femme fatale.
Perhaps that sounds overly ambitious to you, but please think… when was the last time you truly played? I'm going to tip toe out on a limb and guess lately you've felt like something akin to Atlas with the weight of a world balanced squarely upon your shoulders. It is vital to carve time out from the pressures and responsibility to indulge and nourish yourself. You are driven; maybe your career disallows you the time for a traditional courtship or your domestic life, while fulfilling in many ways is lacking in others? Purposefully submitting to pleasure is physiologically and emotionally replenishing and improves your human experience as a whole (ask science!) yet creating space in your busy, professional life and finding the time and energy to plan can be daunting. Allow me to take the reins. As a practiced bon vivant, it has been my great privilege to dedicate myself to curating experiences full of warmth, luxury, and the pure thrill of gorgeous self indulgence for you. Have you ever met a woman who saw through to your core and delighted in the truest version of yourself? Give me the keys to the deepest, internal rooms where you have locked your unadulterated laughter, wry smiles and unabashed joy. Whether for just an hour, or an evening, take my hand, let me be your muse. I have found my life's purpose inspiring happiness in others. I want to set you free.
You have seen my photos so I won't drone on about the qualities of my beauty except to say that the anticipation will haunt you sweetly; you will day dream of the way my long raven locks cascade down to the small of my back, caressing the top of my luscious, plump behind, willing the clock's hands to move faster towards our time together. Imagine your fingers, slightly trembling, as they follow the illustrations etched into my alabaster flesh, like constellations, a treasure map for you to follow. My grey eyes flash and lock with yours, my gaze unwavering; close enough to hear my exhale. You have memorized the full arc of my lips, but you don't yet know how any trace of nervousness that lingers will melt away from you as they part into the warmest grin, full of warmth and mischief. I know you are looking for someone genuine, someone who engages you holistically, whose passions and wit and endless facets stir something in you. I love the path I have taken and I don't hide behind a facade. This is who I truly am and I am so gratified to make a living creating happiness for you.
And when it comes time to part, you will feel to your marrow that our time together was sustaining and well spent.
Interests
Cultural Anthopology, linguistics, excellent food, art of many kinds, cinema, stimulating discussion, human sexuality, polyamory, ethnobotany, ethno-pharmacology, social justice, beautiful lingerie and books. Lots of books. Some of my favorite reading materials, if you are interested in what I am consuming, include Sex At Dawn, God's Middle Finger (A journey into the lawless heart of the Sierra Madre), The Brief and Wondrous Life of Oscar Wao, Spillover: The Next Human Pandemic, One River, Three Weeks In December, The Serpent and The Rainbow, The Crying of Lot 49, American Nomads, The Ethical Slut, Annihilation etc.
As far as gifts and treats go, they are never expected but I would be being disingenuous if I said a well picked something won't make me squeal with delight and smother you with excited affections. Thoughtfulness goes a long way with me. I especially love recieving my donation tucked inside your favorite book,or accompanying a bottle of 2014 Kenzo Estates Asatsuyu sauv blanc, unusual flowers (peonies in particular), or lingerie in my size (or 36D, underwear and garter belts in size Large, from lingerie purveyors of quality are always apreciated.
Truly the best gift though is more time with you. We could share an evening together in which we enjoy social activities I am fond of such as attending gallery openings or museum galas or you could book an engangement with me in which we have a fine meal together at a restaurant of my choosing. There is nothing I am more passionate about than hedonism and living up to the bon vivant moniker, so you booking me for an evening in which we share many of life's pleasures lets me know you are the kind of guy I adore.
In lieu of more traditional gifts, donations can always be made to SWOP Bay Area, Red Light Legal or St James Infirmary in SF and are greatly appreciated. Philanthropy is sexy!
Expectations
$700/hour or $600/hour with deposit.
Each additional hour is $600
Europe 450 E/ hour if I am already there.
Returning friends I've seen within six months have their rates grandfathered
6 hour dinner date $2,700
O/N (12 hours) $3,500
Extended O/N (16 hours) $4,500
A whole delicious day $5,500
Overnights within the US and nearby include the costs of travel. Visiting you in your major city for appointments of 3+ hours do not incur additional travel fees within the time zone I am in (for example, if I have ads in SF, I am availible to come to you in LA, SEATAC or PDX for no additional travel fee for dinner date bookings or longer).
I live out of the US. When I am on tour, my assistant Simone is available to answer questions and take care of screening at which point she will pass you into my loving arms. When I don't have ads up, email is checked weekly.
I am availible to men, couples, women, gender queer cuties, trans-folk and anyone in between who is safe, hygienic and respectful. I never discriminate on the basis of race, gender, orientation, disability status etc. If group activities are your cup of tea, please email me as I have many friends who can join us!
Please leave consideration in large bills tucked in your favorite book or in plain view upon meeting and do not ruin the mood by mentioning it. My consideration is NOT negotiable.
Though I have bold style, I'm a lady. Any lewd or graphic conversation over phone or email will lead to swift (and permanent) termination of our communication