+

Sensual Geek. Epicurean Muse. Fierce Mystic.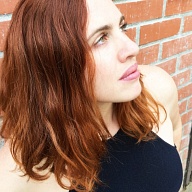 The Look
Halcyone X is a 5'4", slender, all natural, 28 year old caucasian woman with shoulder length red hair and green eyes.
She is available for Women, Couples, and TV/TS.
Hello Ladies! Yes, you read that correctly … ladies, girls, femmes, butches, lipsticks, women of all stripes, shades, and persuasions. I am here for you, the women of this world.
My name is Halcyone X. I am a sensual geek, Epicurean Muse, upscale woman who offers genuine companionship for women only. Consider my hair fair warning.
I listen deeply, speak passionately, and live my life with conviction. I am definitely not for everyone, but I have a wide variety of tastes and can connect with many. Perhaps you?
I specialize in helping women explore their erotic passionate selves. I can help you discover the myriad delights of your body. As a student of pleasure I've taken it upon myself to learn about all the ins and outs of what brings us the most sensual delight. I have been given extraordinary gifts and I would be delighted to share them with you. Be your guide on a journey that is at once epic and intensely, intimately, personal.
I invite you to imagine yourself experiencing your own personal sensual paradise. Breath in and feel the depths and breath of what your senses can reveal to you. Can you allow yourself to imagine a moment of complete relaxation and utter abandon? Are you ready to embrace your innate playfulness & luxuriate in the full spectrum of what is erotically possible for you at this moment?
I have a talent for creating space that allows people to be. Just be. I take the work of being a companion very seriously. I love a good adventure - they aren't always fun when you're having them, but damn do they make for good stories. I adore a good story. I'll want to hear some of yours when we're not making our own.
I have talented hands and a clever tongue. I give excellent massages and am a delightful conversationalist. What were you thinking?
Interests
The problem with this question is I don't even know where to start. This world is fascinating and if you're bored, you're not paying attention.
But seriously, I've been obsessively learning about so many things my whole life. I keep coming back to psychology, sociology, sex, and human interaction. Animals, especially horses. Astrology, tarot, things spiritual and the occult. Food is a mainstay. As is art and creativity. I love language and picking up new skills. I am truly a sapiosexual.
Expectations
My rates for Companion services are
Getting Acquainted: Two hours, $900
A Ladies Wine & Dine: Four hours, $1600
Linger & More: Six hours, $2200
Overnight Slumber Party: Up to Twelve hours, $5000
Longer time together is always entertained
I also create Adventure Dates* which are experiences tailored uniquely to the individual client. Adventure Dates start at six hours for $4200. Depending on the needs and desires of the client, they can be much longer affairs and in some cases truly epic. Rates vary depending upon time and the demands of the adventure. Adventure Dates require a 50% deposit. Please understand that these experiences are for repeat clients only - I need to get to know you at least a little bit before I can create an escapade worthy of the title Adventure Date. If you're a new client and know that you are interested in this service, be sure to let me know.
I am an exclusive provider for women identified individuals, however I will consider catering to a couple - it's a beautiful thing to be a part of the special magic created by bringing a new energy into an existing partnership. My focus of course will be on the lady for the evening, unless it is two ladies and then who knows who will be focusing on whom (sly grin)
A couples get together is $1350 for two hours or $2400 for four hours and so on. A longer connection can be discussed as always.
Remember discretion and privacy are top priorities, for both of our sakes. I have several options for a screening process designed to be as quick, easy and painless as possible.