+

Cerebral domination + Female Led Fetish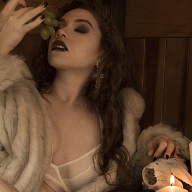 Joy by woe, as woe by joy.
Kraft-Ebbing's famous manual "Psychopathia Sexualis" declared the female sadist a natural rarity. Sadism, he believed, was in direct contrast with the nature of femininity, a diseased aberration parroting masculine nature. We both know this is laughably antiquated. Sadism has a feminine essence; nurturing, cunning & cloyingly sweet to hide the poison.
My own sadism, my impulse to destroy, is a creative impulse. What could be more female than creation? You cannot create until you break down what was there before & I prefer a blank canvas. I relish using my boundless creativity to determine what lengths you will go to make me happy, like an Arthurian lady sending her knight on a quest. & though your obsession will go unrequited, I'll toss you a scented token before you ride out to demonstrate how devoted to me you really are.
What could be more inherently feminine than the dance of a dominant's subjugation of her submissive? My curves & sharp angles will catch your eye, mesmerizing you, drawing you in to have a closer look. Is the fiery glow around my naturally red hair a halo or a prelude to horns? You'll approach me with caution, crawling into my web willing. You'll mistake my lightness & laughter for laxness.
Inevitably, you'll feel at ease & speak a bit too freely. Trusting me is easy and you'll let me lead you away. You'll discover while we are alone that the coquetry was a clever disguise. You will look into my eyes and realize the innocence you read in them was a ploy. You will find yourself unable to escape & unwilling to try.
The Look
Rum Dolor is a 5'7", all natural, 27 year old caucasian woman with long red hair and hazel eyes.
She is available for Men, Women, Couples, and TV/TS.
Interests
Some of the things that please me:
Lite to Extreme Sadism
Femdom Indoctrination
Slave Training
Programming
Motivational Training
Fetishism
Lite to Extreme Humiliation & Degradation
CFNM Body & Object Fetishism [stockings, feet, armpits, etc]
Goddess Cult & Religious Deprogramming [conversion, ritual, confession, prayer, excommunication etc]
Spitting
Interrogation [ police, confession etc]
Behavior Monitoring & Modification – including corporal punishment
Domestic Servant Training
Total Feminization/ Sissification & Femininity Lessons
Sensory & Sensation
Total Power Exchange & Contracts
Predicaments & Challenges
Chastity Training / Keyholding
Nurture & Encouragement
Objectification [human furniture, ashtray, rugs, etc]
Pheromone & Scent Indoctrination – My underarms are kept natural.
Ego Assessment & Adjustment
& etcetera, according to my whim
I exploring my kinks & our connection in creative scenarios including medical drama, sci-fi predicaments, abduction/hostage & nurturing dynamics- I'm never opposed to hearing a new idea.
Expectations
Visit my website. If you'd like to see me in person the page "In the Flesh" will have a form for you to fill out. This is the only way I take bookings as I like to be organized.
Due to the screening process, those using references must request an appointment no less than 24 hours in advance. If I can verify your identity alternatively, more impulsive appointments are possible.
I require deposits for all sessions.
I do NOT engage in any unauthorized activity; I am a dominatrix, not an escort. Requesting explicit acts in your appointment inquiry will get you blocked.