+

Stunning Ballet Dancer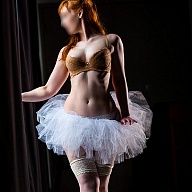 My name is Isabel Archer, I am professional ballet/contemporary dancer and choreographer located in Vancouver and I would love to meet you!
Welcome Gentlemen!
My name is Isabel Archer, I am professional ballet/contemporary dancer and choreographer located in Vancouver and I would love to meet you!
Dancers are known for their engaging personalities and I am no exception. Doing what I adore every day fills me with joy and happiness and I love to share that with those around me.
Choreographers love me because of my compelling stage presence but my bright smile and engaging demeanor are not just for the stage; I have a naturally warm and caring personality that makes people want to be near me. Although I am intensely driven and passionate in my studies I believe that life is meant to be enjoyed and love to let the playful, cheery and even goofy side of me take over when in social situations.
Hours and hours in the dance studio have given me a slender and toned physique but nature gave me luscious curves and graceful features. Everything about me is feminine, from my big blue eyes to my elegant neck and shoulders. As a dancer, it is my job to eat and live healthy. I am a non-smoker, non-drinker and do not use any recreational substances (other than chocolate!).
Being a full-time artist makes it difficult to make ends meet, and so I arrange to spend time with fun, respectful gentlemen who would like to make a contribution to the arts while enjoying the company of a charming, sweet woman.
Introduction – up to 90 mins 600
*(recommended for new friends)
Rendez-vous – up to 60 mins – 420
*A chance to catch up
Interlude – up to 2 hours – 800
*Extra time to enjoy ourselves
Retreat – up to 3 hours – 1100
*Unrushed quality time
The Look
Isabel Archer is a 5'4" 29 year old caucasian woman with long red hair and blue eyes.
She is available for Male only.
Interests
Dance is my passion but I love all of the Arts. I deeply appreciate music, especially classical, opera or jazz. At home I play piano at an advanced level and have a beautiful baby grand piano.
Dogs! I am so lucky to have a furry fluff-ball as my constant companion. Together we enjoy exploring, strolling, frolicking and cuddling. If you are a dog person we are likely kindred spirits.
Reading – for me it's edification, reflection and decompression. I tend towards fiction but value all writing. Do please recommend your favourite book and tell me all about what you are currently reading.
Expectations
I will be thrilled to receive your introduction email at isabelarcher1881@hotmail.com. Please share a bit of your personality with me so that I can gain a sense of you. Great topics are hobbies, background & interests. Personal information such as age, work details, ethnicity is appreciated but not required.
Feel free to share your general availability so that we can compare calendars. 1-2 days notice is generally necessary and more notice is always appreciated.
It may take me 24hrs+ to respond to your introduction. Please have patience and know that a substantial and detailed email will ensure the fastest possible response.
You may feel free to call me, however, I do not check my phone unless we have set a telephone appointment time.