Article Originally Published 2011, Freshened Up With New Products and New Tips!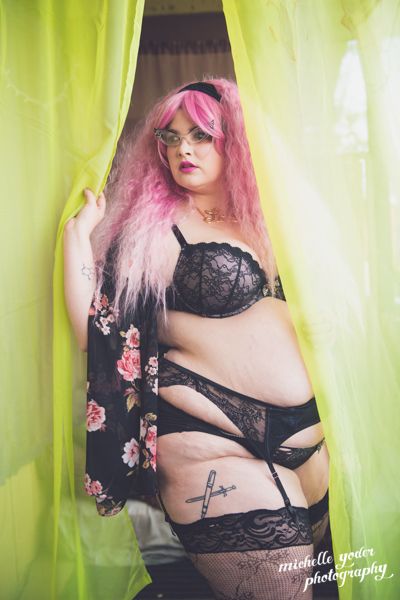 Ever read the sex tips in Cosmo and thought "seriously, I am not a yoga master, how the hell am I supposed to do that position" or thought "wow, are the only people who have experimental sex skinny?"  or "but goddamn it my knees hurt when I do that for too long"?  I know I've certainly scoffed at sex position cards that suggested acrobatics that would qualify me for the Olympics!
It's really sad when you look up "fat sex how to" or "bbw sex guide" and it only takes about 5 entries before you get to either degrading porn or weight loss tips. Ugh. And then, of course, there's all the body-negative bullshit to wade through. Way to remove sexual agency from fat people!
Well, fat people have sex too, I'm here to tell you, and it can be as varied and exciting as it is for everyone else.
Here's some tips and tricks to explore sex/iness- whether you're chubby, thick, zaftig, plus-sized, or just plain fat.
Set the Mood
One thing that challenges a lot of fat people when it comes to sex is feeling sexy. We're not encouraged to love our jiggly bits- our thighs and bellies and upper arms go unstroked and unkissed far too often. It can be hard to find sexy underwear and lingerie that fits fat people, and if you're feeling uncomfortable with your body, your confidence can go way down. There are multiple ways I've found to help calm those nerves (and here's a great article if you're the lover of a sexy fat person wanting to be supportive!)
One is taking a shower with your lover- there's something about the hot water and slippery soap that makes all that flesh really sexy! And, if you decide to get frisky, there are various props you can use in the shower to make that easier- the step and the handle are two I recommend, though maybe tying up your fat lover using suction cuffs and kissing all over their body might do the trick too. Along similar lines is erotic massage, which puts you in your body and feeling great about it- what better way to turn your lover on than with some scented massage lotion or some warm massage candles? Or you can blindfold your lover and use an ice vibrator or some chocolate body paint to explore their skin… it's all about reassuring them that you find their round bellies and thick thighs sexy.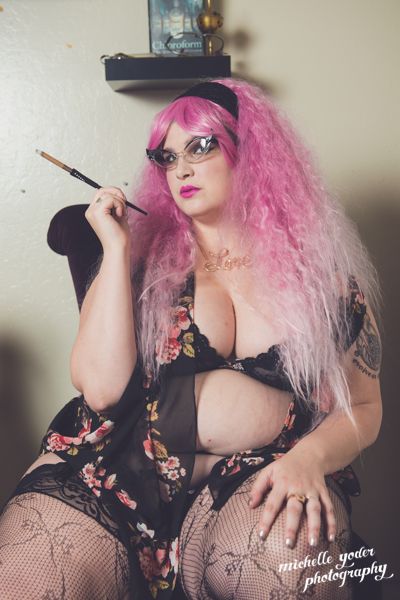 Another thing you can do is light candles (massage candles have double the usefulness!) or use pink or amber light in your room for mood lighting. Everyone looks sexy under soft sensual colours, and just changing the lighting can be enough to create an atmosphere where your nervous lover feels sexy. Or you can wear lingerie or sexy outfits that show off your body well– for femme-presenting people, babydolls are great if you have breasts you're really fond of, a garter belt and thigh highs can highlight sexy legs, or hipster panties might be the trick if you're bootilicious. You're not stuck to corsets! I get a lot of my sexy clothes from the plus size section of Forever 21, though I never forget the wise words of Virgie Tovar- "the size says no, but the stretch says yes"! Don't turn something down based on the size sticker, but the material's ability to embrace those luscious rolls.For masculine-presenting people, sock garters and black underwear can sex you up… maybe add a bow tie for some formality. Uniforms also come in different sizes- you can always add some roleplay into your repertoire. Backcountry has some sexy boxer briefs that go up to an XXL , as does Undergear. I'd personally love to see a bearish man in suspenders, an ascot tie, and booty shorts, but that's just me…
Of course, how can I forget watching some body-positive pornography? There's a lot out there now that has different body types in it without it being negative. Books and magazine wise try the diversity within these- Extreme Curves for female bodies, Salacious for queer bodies or, if you can find them, old Filament magazines for the occasional chubby male body (out of print now sadly). For DVDs, consider Betty Blac in Lesbian Curves (or both of us in Hard Femme!), April Flores in Bordello, Courtney Trouble in Layover, and Liz in Queer Manor. If you like trans male bodies, check out Cubbyholes for some yummy cubs and bears. Got some hot video porn to suggest with hot fat men? Leave a comment!
Consider Sex Pillows!
I got to try out one of the Liberator wedges and I have to say they're fantastic. Made of furniture grade foam, covered with soft microfiber and protected by a water resistant liner, these are sturdy and effective no matter what your size or mobility. I recommend them fully for all bodies, but they're particularly useful if you want to do penetrative intercourse, as you can angle the cunt up or support propping an ass up at an angle to make penetration easier to manage. Not only are these great for penis or dildo penetration, though, they're also awesome for comfortable oral sex as your neck doesn't have to be at as extreme an angle.  Generally if you're fat you should go for the Wedge, though you could also check out the Heart. I personally found the Jaz a bit small for my luscious 50″ hips, but if you're smaller it should be plenty supportive enough. And they blend in beautifully into your decor- no one will know what it is. You can of course use folded up pillows in a pinch- I recommend cotton .
Some positions are easier and more enjoyable for fat bodies than others, whether having coupled sex or masturbating. Most positions can be adapted in such a way as to make it fun though, regardless if you're using sex furniture to make it happen!  Missionary position can be a bit difficult, especially if you both have bellies, as the partner on the bottom may feel smothered and the partner on the top might tire out quickly.There's a few ways around this- one is to have the partner on the bottom wrap her legs around the top partner's shins, meaning her legs are spread enough to make penetration easier and also encouraging the top lover's body to press against her clit. Another way is have the penetrating partner sit back on their haunches during intercourse instead of leaning forward, therefore allowing some breathing room. If you're the penetrating partner, support yourself with your hands rather than your elbows and lower yourself onto your lover's body slowly. Finally the penetrated partner can put their legs over their lover's shoulders for easier access and allows the bottom partner to push back against the top.
The woman-on-top position is especially good when with a fat penetrating partner as the woman can reach around and guide her lover's cock into her. And the woman on top is able to angle herself for the best position for her pleasure, this can be an ideal method for g-spot stimulation. It also allows her to play with her clit, enjoy a vibrating cock ring , or use a vibrator – I love the G-Kii  as you can change the angle of the vibe for g-spot stimulation or for your clit, and it's pretty powerful- that flexibility means *you* can be more flexible about positioning. You can also try using a wearable vibrator  like the Butterfly – just slip it on and enjoy (or, if you have meaty pussy lips like I do, you can use two fingers to hold a vibe in place by folding your labia over a vibe like the Matryoshka)! If you both have large bellies that make the cowgirl position difficult, try reverse cowgirl instead.
Sex from behind is also pretty hot!  I personally love gripping my lover's hips and pulling him into my cock. I also sometimes like to be spanked while I'm being fucked, so doggy style is ideal for me.
Consider using pillows or a wedge to support the bottom partner, and remember that it can be hard for some fat people to have their knees bent and weight on them for a while. Having support in place will help ease that.
You can also try using a doggie style strap to make this position easier.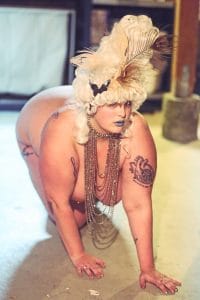 Strapping it On
First of all, when looking into strap on toys, think about length as much as width. When you're fat, or your lover's fat, you can lose an inch of the length of the toy with soft lovely flesh on either side, making a 7″ toy 5″ or less. One thing you have to watch out for, though, is that toys with length tend to also be too wide! Some dildos I've found work really well for fat sex are the First Mate, the Silk 3, and the Bandit. These have some good length without being super thick. Personally I'd recommend silicone dildos, because these are able to be sterilized, whether that be via toy cleaner, boiling, or putting in the top rack of your dishwasher.
Also be wary about the sizing on strap on harnesses – measure yourself before you buy so you're sure the harness you pick will be comfy. I recommend the femme vibrating corset harness , which offers a bit of extra back support making the dildo  sturdier on fat bodies than other harnesses . I also really enjoy the comfort of the much more butch Joque harness  when it comes to my body! The thicker straps on the Joque mean it doesn't dig into your tender flesh as much, and it's great for wearing under clothes for surprising your lover. You can also check out the Terra Firma harness  if your tastes are more for something leather. My top fave? This harness from Rodeoh, which they've recently made to fit a larger range (hurrah!)
I have a whole article on this here, and a video here at Passionate U!
Double Trouble
You can also explore using double dildos  like the Realdoe  or the Share , which can be really fun to stimulate you both at the same time. The Double Troublelooks like a challenge (great for scissoring I bet), but one I want to take on with someone soon….! Personally I've found it difficult to keep them in on my own (I guess I need a session with Betty's Barbell ) but I've discovered a technique that works pretty well. I lie on the bottom with the toy inside me, and have my partner ride on top of me. That way, when she's pumping back and forth, the part of the dildo  inside me rubs beautifully against my g-spot, and my stomach lies a bit flatter so there's less in the way. Hot!
Another technique I've used, since larger bellies, thighs, and asses can mean that finger manipulation or slipping a toy between our bodies is difficult, is to use a harness over a Rock Chick. This allows me to have a vibrator against my clit and stimulating my g-spot while I thrust into my lover or have him suck my strap on.
Read More
Want to know more about having hot fat sex? Check out these links for some additional information:
5 Comments
HeidiPosted June 17, 2011 at 4:25 AMYay, awesome post! I have a suggestion for harnesses! For those of us too big for store-bought, I'd recommend http://www.inhertube.com/Several fat friends have bought their custom-made rubber harnesses and LOVED them. It's been on my wishlist for years.
ElliePosted June 18, 2011 at 12:15 PMThis is a gorgeous, affirming post. I bet these tips will help a lot of people.
Teagan ShepardPosted June 22, 2011 at 1:48 PMThanks for this wonderful post! I, too, am a fat girl, and I am loving the body-positive ideas here!
plumecoquinePosted July 10, 2011 at 8:42 AMGreat post! Very complete. Thanks.
PiperPosted April 11, 2012 at 11:16 AM<3!
This post and the comments above originally appeared athttp://kittystryker.com/2011/06/fuck-me-im-fat-a-hot-guide-to-fat-sex/.