Whoa, Canada 🇨🇦
The story of decriminalization in Canada has hit a new (kind of amazing) chapter. Here's the backstory: a few years ago, the criminalization of prostitution was struck down as unconstitutional in Canada. Canada's version of the Bill of Rights (the Charter of Rights and Freedoms) provides a lot more protections than the US does, so there's more opportunity to go after things like criminalization of sex work there. After the law was struck down, the government decided they needed something in place, and so after a contentious fight, they enacted C-36, an End Demand law, in 2014, which criminalized both the purchase of sex and third parties.
A new case is are looking to put a crack in that law.
A couple in Calgary is challenging third-party laws, saying they are unconstitutional, and infringe on the rights of sex workers, citing the importance for health and safety of being able work collectively or hire a third party. The couple ran an escort service that was shut down in 2105 under the law, and – according to the dramatic photo on top of the article – have since become jet-setting spies. Numerous studies have already come out noting that sex workers are facing higher rates of police harassment and intimidation, no improvement to working conditions, and a decrease in accessing services (this last link is a powerpoint, so save a click for your browser).
Just to put a cherry on top, a companion just put up a billboard in Winnipeg to advertise services: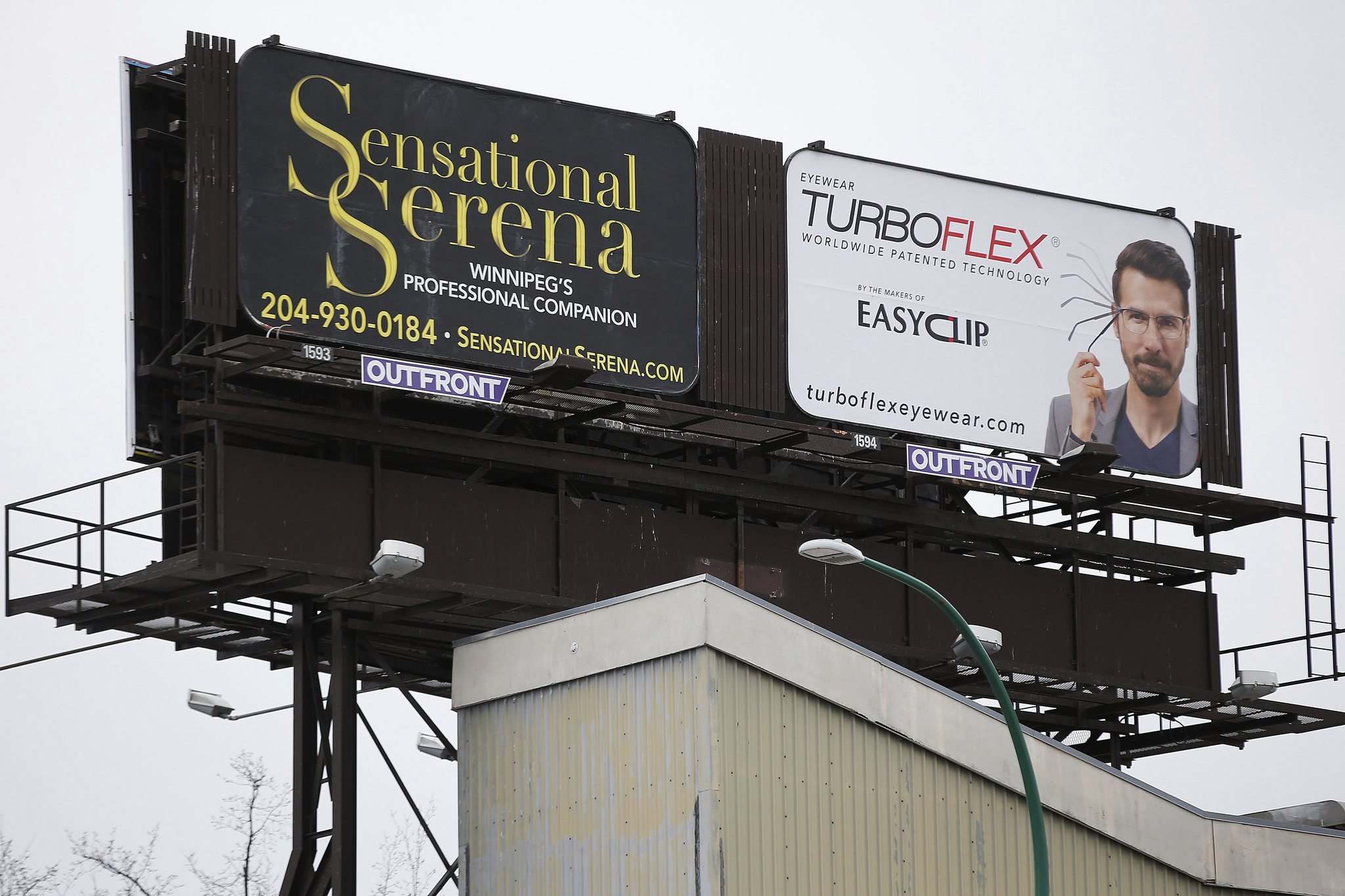 ---

South of the (Canadian) Border
Everyone seriously hates the new Netflix show that a random dude wrote about a pro domme. Mistress Velvet explains why (and if you want to support intellectual labor, you can do so here):
This piece delves into the amazing health and community work done by St. James Infirmary, who is celebrating twenty incredible years of service and support (and talks about their upcoming gala on June 2).
And in remembering that there is life outside of sex work, Naomi Guo talks about being a sex worker and a lawyer (yes, in Canada, but it fit here better), and Penny Barber talks about being a porn star and a parent (with a few other folks).
As lawsuit challenging the constitutionality of FOSTA/SESTA is moving at litigation's pace (slow- lawsuits move really slowly), a brief was just filed by a number of state's Attorney's Generals to uphold the law.
With the incredible work of the Coalition for the Rights and Safety of People in the Sex Trade, Washington state passed HB1382, which provides immunity from prostitution charges for those seeking emergency services.
Organizers, advocates and researchers presented in Sacramento last week in support of the California bill which would similarly create immunity for those reporting violence and bar the use of condoms as evidence of prostitution:
And in a step towards keeping families together, Tennessee passed a bill which would require judges to consider community-based alternatives to incarceration for primary caregivers. The bill was a hard-fought win created by incarcerated and formerly incarcerated mothers.

Organizing in Different Regions
The Las Vegas Sex Worker  Collective is looking for speakers for their June 2 event:
The Global Alliance Against Trafficking in Women has been releasing videos highlighting community organizing around the world; this one looks at organizing in Latin America and the Caribbean. (I'm so into the description of alternative justice models they've set up):
And, in Fighting Back News
A "feminist" organization paid private investigators to surveil strip clubs using hidden cameras, recording dancers partially and fully nude without their consent. The organization then took the video to local authorities for the purpose of having the club's licenses revoked, because these women support other women by taking away their income. The union is seeking "legal remedies" to address this violation and lets all hope they get every single cent they're owed.
Alright. Back to the grind.
K.