One of the most difficult things to overcome for anyone advertising any sort of product or service is the question of legitimacy. How do you convince potential customers that your thing is the real thing – particularly in an industry and a time when just about anyone can call themselves anything, put up a website, and start charging. Add to this the idea that some sites will promote users as "authentic" or "verified" for little more than confirming their email address.
Slixa has worked hard to overcome this with our independent Photo Verification available to all users, offering site viewers enhanced confidence that a user is who they say they are; Slixa has reviewed the photos submitted by the advertiser and they are a match for how this person really looks. Slixa has more independently photo verified users than almost any other site, and viewers know that.
What is a BDSM Professional?
When it comes to BDSM providers, it can be not only useful for viewers, but also incredibly important to distinguish between experienced and highly-trained BDSM Professionals, and someone who bought a $14 Doc Johnson riding crop over the weekend, and checked an extra box on a random profile. Kink and BDSM can be exciting additions to one's preferences and enjoyments, but there is a distinction to be made between someone who is into BDSM, and a BDSM Professional.
This was the thought process behind Slixa's one of a kind BDSM Professional badge. Site viewers can browse and filter profiles with confidence, knowing that the advertisers displayed with BDSM Pro banners have had their experience and training vetted by industry and community sources.

How can I have my Slixa profile BDSM Verified?
We try to keep these processes as straightforward as possible, but – as with many things – discretion is the better part of valor. Which is why we keep specific details about what sort of information is requested inside the Slixa advertiser dashboard. Advertisers can feel safe sharing details and contact info with our secure form, and having that information privately reviewed by Slixa's world-class Support team. If we have questions or need additional details, we will reach out directly as quickly as possible.
If you're ready to have your profile BDSM Verified, head over to e.slixa.com, login, and navigate to the drop down menu the top right corner. Find Verification and click to view a full list of potential Slixa Verifications.
What happens next?
After Slixa's review process, you won't need to do anything else. A permanent badge will automatically appear on your Slixa profile, delineating you as being a verifiable member of the BDSM community and someone site viewers can trust as a BDSM Professional. The date of your verification will appear on your badge, further establishing you as an authority in your field in the years ahead.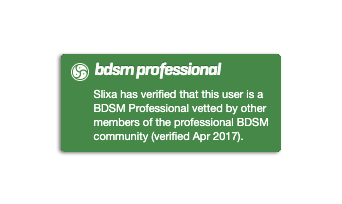 Must I become BDSM Verified?
Nope. As with Photo and Tantra Professional Verifications, BDSM Verified is an enhancement for you Slixa profile – a way for you to communicate your legitimacy as a BDSM provider to site viewers.
Is BDSM Verification expensive?
BDSM, like Photo and Tantra Professional Verifications, is a complimentary service provided by Slixa to ensure our reputation as one of the most trusted adult entertainment directories is maintained. There is no additional cost to have your profile BDSM Verified, and there is no additional cost to be listed in the BDSM top-level category.
Will my profile no longer appear on the main site, if I'm BDSM Verified?
Some sites prevent BDSM pros from advertising alongside other users, even relegating them to a subdomain of the main site or a different URL entirely. Slixa believes that our community is made stronger by featuring representatives of different specialties and experiences together. Site viewers looking for a particular type of advertiser or experience can use Slixa's simple Advanced Filters to find the perfect provider for them.
I have another question.
Great! That's what we're here for every day. Slixa is known for world-class customer support and we would be happy to answer any questions you can't find addressed in our extensive FAQ. You can reach out by email, live chat, or phone.
This article was made possible by Sister Porn