In these troubled times, we know Slixa advertisers are still some of the most resilient entrepreneurs one is bound to find online (or anywhere else). While the jump to online spaces and work may seem daunting to some, others have taken to it with ease.
Use Slixa to promote your online work
If you are someone who has made the temporary (or longer term) transition into online work, and you have a Slixa profile, we're excited to announce a new way to promote your virtual offerings. Even during the COVID19 pandemic, Slixa is maintaining record traffic – viewers still want what our advertisers have to offer! Don't let those profile views go to waste. Our new Distance Dating filter is a free profile upgrade available to anyone with a Basic ad or higher, that displays your Slixa profile in every Slixa city – not just your home city: online means worldwide! Quickly rack up extra views, capture new attention, and easily convert potential clients into long-distance paramours.
It's easy (and free) to set up!
Simply log into Slixa and head over to the profile builder. You'll now see Distance Dating as a Profile Upgrade alongside upgrades like VIP and Centerfold. There are no credits required to enable this upgrade, and your profile will be immediately decked out with a customizable banner alerting viewers to the fact that you offer Distance Dating options and how best to connect.

In addition to the banner on your profile, you will now be listed in every Slixa city in your home country. Your views should explode upward as you start to collect contacts from folks who may have once thought you totally out of reach in real life, but are excited to share a virtual experience. How you connect and what you share is entirely up to you.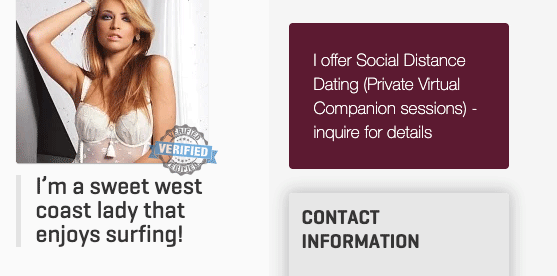 Tips for Distance Dating success
Change your ad image (which appears on City pages) once a week, to add some visual variety to your presentation and attract new viewers
Log in and edit your profile regularly, adding new photos or changing text, to keep viewers engaged and keep your profile fresh
Update your profile tagline to mention virtual meet ups
If you use an email autoresponder, consider disabling it or modifying it to include Distance Dating options
Figure out your plans and platforms ahead of time – how will you connect? Signal? Wire? How will you request payment for your time?
Distance Dating can include things like virtual meet ups, paid texting (by the week or or month), premium social (where viewers pay to follow your private accounts), or private images or video you share exclusively with your viewers. Your imagination is the limit to monetized Distance Dating
---
As always, Slixa is here to help you succeed, and if you have any questions about how to use the Distance Dating upgrade or any other Slixa features, we're available by email, and live chat. Or you can pick up the phone and talk to a person. Radical idea in this day and age, we know.
But that's how Slixa does things.
Remember: you can track all of our announcements and changes related to the COVID19 pandemic on the COVID19 tag.