Lifestyle and fetish photographer Teri G. shares her best tips for taking out-of-this-world photos on a budget, and making the most of what you have on hand. Get ready to take your imagery from thot to HOT🔥:
---
Advertising when you're an entrepreneur and a small business owner is almost as important as the quality of the product or services you're trying to sell. And nothing is as tempting as a well taken photo! It's the quickest way to convey how special and desirable your product is! And when the product is you, showcasing yourself in the best possible way becomes imperative. Yes, booking a professional photographer would be ideal, but isn't always in the budget.
So allow me to give you some ways to up your selfie game, and make you shine!
1. Clean That Space
One of the most important things to do is clean up your space! Prop up your phone/camera, aim it where you plan on standing for your photos, and make sure you have no mess in that frame! Pick up the laundry, the extra shoes, make your bed.
If you plan on sitting on a chair, or leaning against a windowsill, or a counter, make sure there isn't anything there that you don't want people to see! From dust, to empty glasses or mugs, toothbrushes, makeup, and even all the other outfits you tried on! And if the space you are planning on taking photos in has a mirror, please clean it! Dirty mirrors are the worst, but also, mirror spots prevent your camera from focusing on you properly!
Let's take away all the distractions, to show YOU off!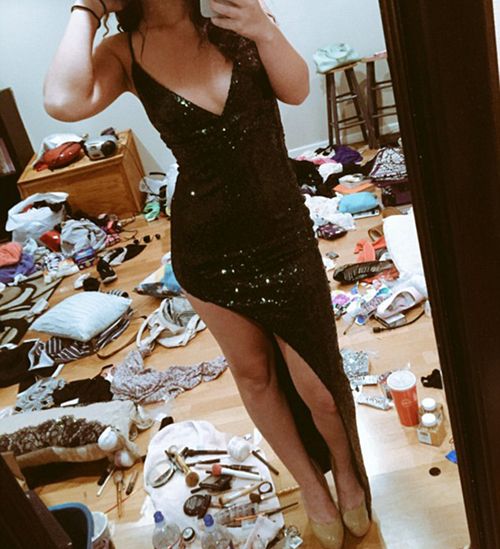 2. Get Some Gadgets
Invest in a tripod and a trigger for your phone. You can pick up this set for about $15

The flexible legs mean you can mount this baby on window sills, door frames, chair backs, curtain rods or the floor, and with the remote, you can get the perfect booty shots – without becoming a pretzel or bribing your friends to take the photos for you!
Truly ideal when you want to take some extra saucy shots, too!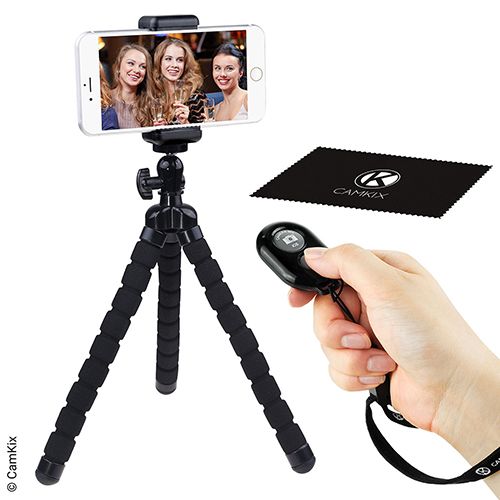 3. Time Well Spent
Sometimes, the remote isn't possible, or even the best option! Make sure you play around with your phone/camera, and figure out your timer settings! Usually you have 3 or 10 second options, and on iOS, that usually means a small burst of photos when the timer is done, for you to pick from.
There are also some great apps, like ​ProCam6​ ($5.99) that gives you more options and framing tools, for that perfect shot! Timed photos are fantastic for getting full body shots of your outfit, and for making sure you aren't holding anything awkwardly in your hands, while trying to show off your gorgeous self!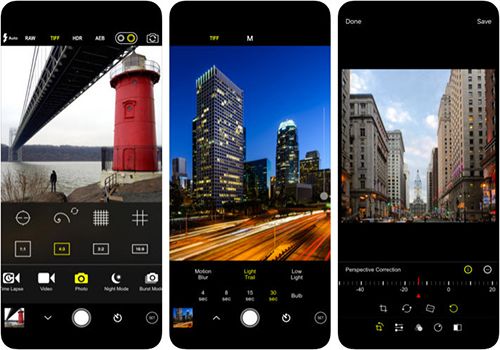 4. Fix Those Straps !
There is nothing worse than getting that one amazing photo, and realizing your bra/lingerie straps are all wonky! Or your hair tie is on your wrist! Or your socks have left weird lines on your skin! Or even worse, the booty shot you took, has a wild tampon string showing!
These are all ACTUAL things I have had to Photoshop out of client images over the years. So make a little checklist and check it twice, before taking new photos of yourself and sharing with the world. It's easier to get it right the first time than trying to edit stuff out later on!
5. Spruce It Up & Make It Fun
One way to make things brighter, unique, and fun, is to add a little fun decor to your space! Plain walls are so out! So make a fairy light wall with Ikea sheer curtains ($4.99) and some fairy lights ($9.99), and light it up! Pretty canopies, fun fabrics, cute lamps, stuffies, wall hangings and your collectibles, are all fantastic things to show off in the background! But remember tip #1, and keep that stuff neat!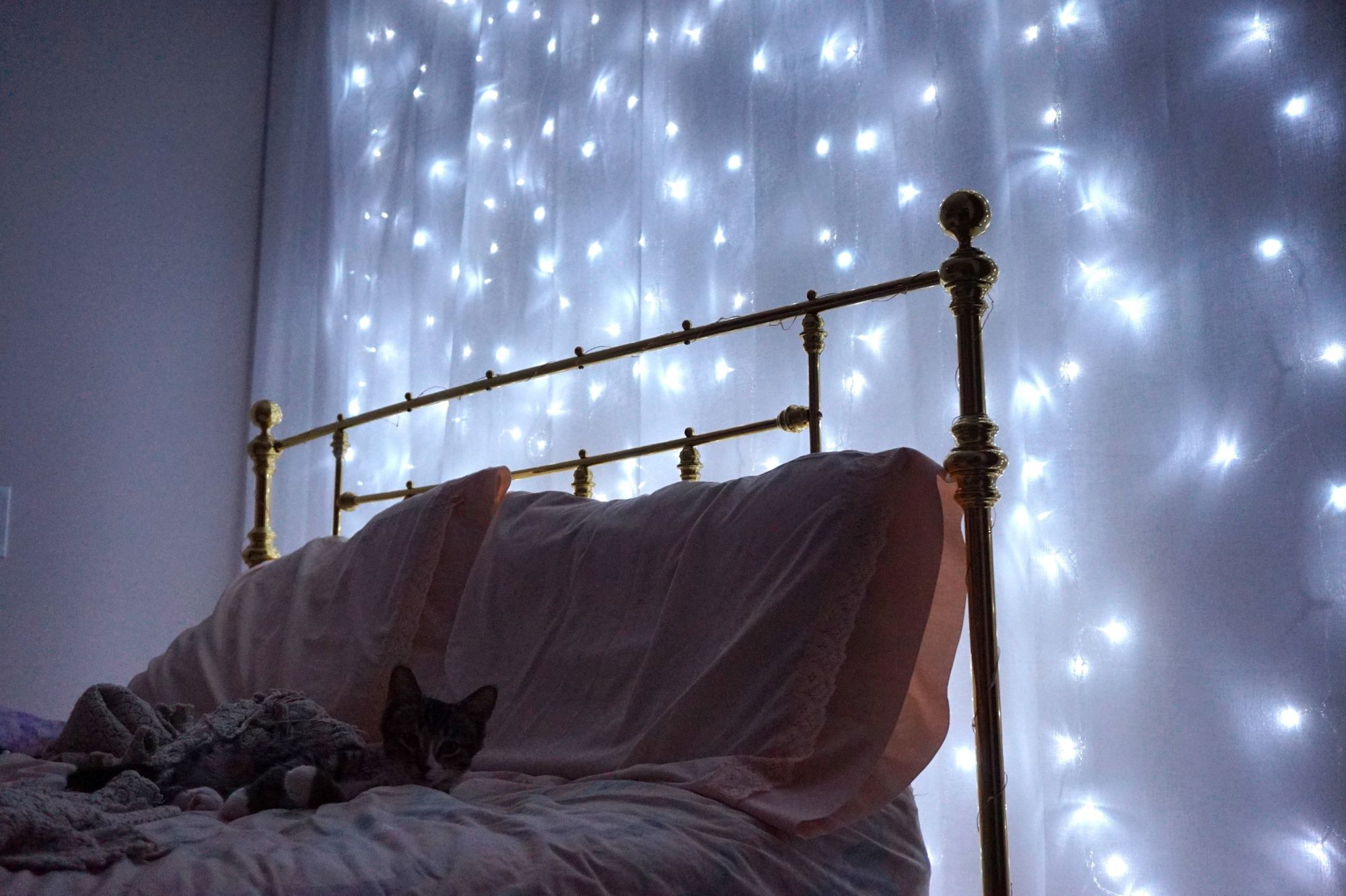 6. Strike a Pose or Three
Posing and finding those sweet angles are a big part of making your photos rock. What models do in magazines rarely works for all body types, so here is where you get to have fun!
Practicing in the mirror is a start, but your best bet is taking heaps and heaps of photos! Remember, good posture is key, point those toes, elongate your neck, tooch that booty, and arch your back! Mostly though, PRACTICE! As you review your photos, you'll learn the perfect poses for your body!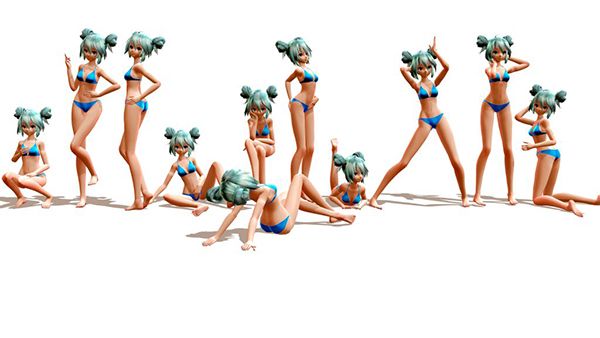 7. Light It Up
Take advantage of the windows in your space! Direct sunlight can be a little difficult to for your camera to adjust to, but facing your window, just out of the light, you can get some amazing bright photos! Bright day light is one of your best tools, and figuring out where your windows face will help with capturing some great selfies.
North and South facing windows mean a more even amount of light in the day, but only a little direct light at certain times. East facing gives you bright light in the morning, and West facing bright light before sunset, and usually with a gorgeous yellow glow. Cloudy days are great for soft moody photos! If you're going for clear, bright photos, face your window and for strong shadows, have the window to one side of your face.
Sometimes daylight isn't enough, or you've created the best look for a night out, and you need an awesome photo of your gorgeous face! Bathroom lighting and desk lamps are never good enough to do your creation justice, so some help is in order!
That's when a mini ring light comes in! They cost about $21 and are super simple to use! You can use them on your front facing camera, as well as the back, just don't get too far away!
They add the right amount of light to show you off perfectly, and this one holds up your phone too! It's a great addition to your arsenal of awesome gadgets! Not to mention, you can use this as a light while still using the tripod and timer!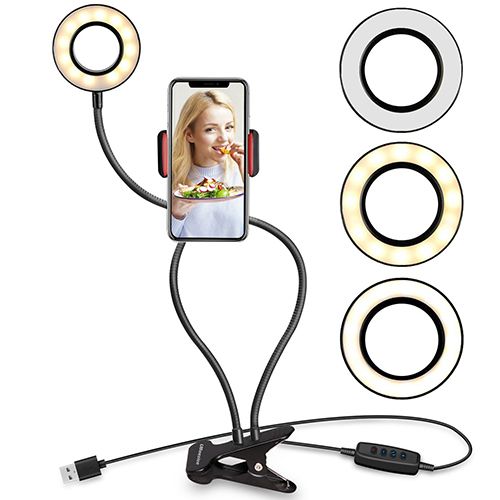 8. Fine Tune That Booty
So now that you've cleaned your space, polished up that mirror, upgraded your gadgets, practiced posing, lit up your space and your face, you are almost ready to rock your selfie game!
The last trick in your arsenal is an editing app. There are tonnes out there, but one that I have found to be particularly useful, for editing photos, squaring them off for Instagram, creating collages, tweaking your skin, and for keeping your superhero identity hidden with some well placed blur and stickers, is ​Moldiv​. You can get all the features free with minimal advertising and no watermarks, or you can splurge for the upgrade pack that suits you best ($2.79-$20.99).
This app has been integral for my social media marketing, while being super simple to use!
---
There you have it! Time for a small shopping spree, and then some amazing selfies!