+

"The Abla Camena Experience:" The Ultimate Pleasure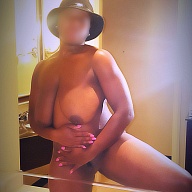 Whoever you think I am, I promise you that I am that and much more…
The Look
Abla Camena is a 5'1", curvy, all natural, 29 year old black woman with short blonde hair and grey eyes.
She is available for Men, Women, and Couples.
I'm a southern belle who is always hospitable and charming. Growing up in a very conservative religious family, helped to groom the intensely wild, good girl gone bad, that I always knew lived deep within. Being the youngest of several siblings, I understand the role of submission. However, I'm a natural born leader, so either role will fit me just fine. I'm very familiar with the lifestyle of a strenuous career, so I understand the need for a relaxing, drama free pleasurable hiatus, and I'm committed to creating that experience for you. I've always been a book worm and have excelled at academics, and I will study you just as thoroughly, making sure that I fulfill all the topics in your objectives…You deserve it!
People describe me as exotic, mysterious, articulate, sensual, and insatiable. I'm polished with a touch of mystery and suspense, which leaves you wanting more and more…
I'm an exclusive, unique provider, who is also free-spirited, down to earth, feminine, passionate, and curvy…, as well as highly sociable, fun, pleasurable, and attentive. I absolutely love to share smiles, laughs, good conversation, and just enjoy life. Most importantly, I'm relaxing, non-judgmental, and stress free, which makes me the ultimate pleasure to be around and experience your desires.
No matter the setting, you will always be the center of my attention…
During our time together, you will find that this will be one moment in your life where you can be completely relaxed and worry-free. I'm a private, professional woman, so whatever experiences we share remain between us only. I prefer longer dates so that we can build an authentic chemistry without rushing. Whoever you think I am, I promise you that I am that and much more… See you soon for our mind blowing rendezvous.
Sincerely yours,
Abla Camena
Interests
Fine Dining
Music
Enjoying Life…
Expectations
VIP EXPERIENCE:
Incalls Only:
90 Minutes: $325
2 Hours: $450
3 Hours: $650
4 Hours: $850
8 Hours: $1700
Couples (Male/Female) Rate = Additional $100/Hour
Contact Yours Truly for Current Specials (i.e., Established Friend)…
Respect is key and you'll always find that I will be courteous, considerate, and treat you with the utmost respect, not only as a client, but as a human being.
I always love to hear from you; however, please make sure to read my website thoroughly before our initial contact. Also, please refrain from explicit language.
On the day of our date, I will send a confirmation email to finalize our time together. Discretion is of the utmost importance to me, so you have my assurance that everything about our time together will be kept strictly confidential. Your email correspondence is emailed directly to me and answered personally by me.
Please take care of the monetary formalities within the first five minutes of our date. When you visit me (Incall), I will offer you the bathroom to freshen up and place the donation in an unsealed envelope and your ID (Non-P411 & Non-Date Check Members) on the counter. However, if we meet in a public setting, please have the donation in an unsealed envelope and your ID (Non-P411 & Non-Date Check Members) tucked into a book or gift bag to not draw attention. Again, hand this over within the first five minutes of our date, and please do so on your own initiative.
I spend alot of time preparing for our encounters together; and hygiene is an utmost importance. Please return the favor and be clean, well groomed and minty fresh when it's time to play!
Last, but not least I must emphasize that last minute cancellations are always inconvenient, so I require a 24 hour notice if you need to reschedule our time together.
See you soon;) Best Wishes & Kisses;)
-Abla Camena