The Never-Ending Politics of Sex Work
While the Queens DA Race is continuing (as of this writing, the judge was open to re-evaluating 26 ballots, more than the margin that Katz is up by, meaning we still don't know who the next DA is), AOC has weighed in on the subject of decrim:
During her visit to the Elmhurst Greenmarket, Ocasio-Cortez spoke with the Eagle about the Queens district attorney race, the city's plan for closing Rikers Island and the movement to decriminalize sex work.

"I think it's something that I think should happen, but we have to be very careful about it," she said about decriminalizing sex work. "So I think that it actually is a conversation that we need to have." [via the Queens Daily Eagle]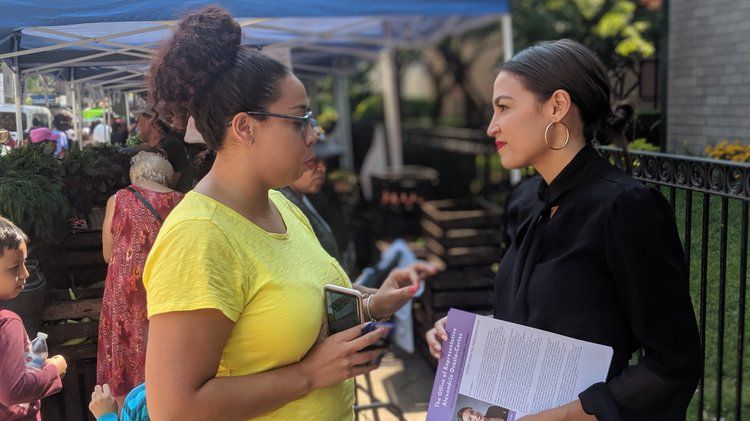 And this week it was hard not the miss the spectacle of the second round of Democratic debates. Instead of turning the stage into the Next American Gladiator, the 20 top candidates discussed topics including health care and immigration, with a few stand out moments.
Hawaiian Rep. Tulsi Gabbard called out California Sen. Kamala Harris for being a dirty prosecutor [Reason] during her time as SF DA and CA AG. Harris increased penalties for prostitution-related crimes and attempted to prosecute the owners of Backpage not just once but twice under the state's pimping laws.
Additionally, Sen. Elizabeth Warren tweeted after this week's debate about Layleen Cubliette-Polanco [Think Progress], who passed away in solitary confinement earlier this year. Cubliette-Polanco, a noted member of the House of Xtravaganza, was incarcerated due to her inability to complete a court-mandated prostitution diversion program and an unrelated charge. While only a misdemeanor, she could not afford the cash bail and had been incarcerated in Rikers Jail for months by the time she passed. Sen. Warren has said she is open to the decriminalization of sex work [Newsweek] (but, quick reminder: presidents can't overturn state laws).
And this gender-non binary mermaid wants to challenge Sen. Susan Collins (remember Collins? The one who voted for Kavanaugh? She totally supports your right to use a coat hanger, I guess) in Maine.
More Politics: The DSA Votes for Decrim
This weekend at their national convention (#DSACon2019) the Democratic Socialists of America [DSA USA] voted to pass a resolution in support of decriminalization of the sex trade.
The introduction of the revolution came from years of dedicated sex worker activists fighting within local chapters on the issue, and represents an incredible win based on a strong foundation of local, grassroots organizing. The introduction also prompted aggressive push-back from anti-sex work groups - but what's new?
One group in particular, Af3irm, wrote an open letter to the DSA on their stance, asking them to reject the motion. The group has a long history of not only being vocally anti-sex work, but specifically attacking sex worker activists individually. Red Canary Song, an organization focused on migrant Asian sex workers in New York, has written an open letter in response to Af3irm's statement, which you can read here [Medium].
Tentacles of Criminalization
Beyond politics, the medical examiner's office announced Tuesday that Layleen passed from a seizure related to epilepsy [The City]. Despite city regulations which says that people with serious medical conditions should not be in solitary (described as "punitive segregation areas"), Layleen was nine days in a twenty-day placement. Stay updated by following #JusticeforLayleen.
Rest in Power, Layleen.
Two attorneys who work with folks who trade sex talk about how higher penalties won't catch or deter people like Jeffrey Epstein, but they will destroy the lives of the victims [GQ].
Displaying the consequences of the way criminalization makes people targets by removing their ability to be seen as anything but criminals in the eyes the law, California signed their immunity bill into law [KTLA] this week.
RightsInfo published a piece from public health experts on why they support decriminalization as part of a full series including a video, critique of the trafficking conflation, and personal narratives. It's worth a read and a citation for organizers and activists, and it's always nice to see good allies in full voice.
After a decade and a half of incarceration, Cyntoia Brown will walk free this week [The Cut].
For more information about criminalized survivors of violence, check out the work of Survived & Punished. For more info on incarcerated sex workers, see SWOP Behind Bars.
And over-criminalization isn't just an American problem - activists around the world are banding together to support incarcerated sex workers.
Toronto
Washington, D.C.
If you're in DC on August 12, this film will go into the experiences of migrant sex workers, who face an additional layer of criminalization:
Seattle, WA
And Seattle on August 8:
Global Activism
And the Red Umbrella Fund highlights the role of Artivism in the work of fighting back.
In a beautiful demonstration of the importance of artivism, SWEAT, a coalition based in South Africa, brought the issues of sex worker rights to the LGBTQ Women's Conference.
And for Dancers in London looking to conenct:
OK. Back to the grind.
K.