+

Sweet and curvy hedonist, for the discerning, discreet gentleman.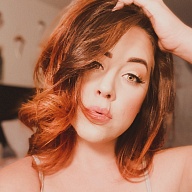 Divine feminine genuine companionship.
There's one thing people consistently notice about me.
They say they notice it most in more private realms of dev0uring, of course…but it becomes even more apparent in public, like when they take me out to indulge in a fancy meal.
My subtle sounds with every delicious bite. My intense focus on whatever is most present — whether that's you, or the sips of sangiovese dancing on our tongues. My giggles of delight as the conversation takes a tantalizing turn.
What people notice most about me is my absolute reverence for experience and connection.
So who is this Shay Rose? Allow me to enlighten you;
A sweet, nurturing Cancer, with an airy Gemini moon and fiery Sagittarius rising. I find magic in the little things. A multi-faceted being that longs to connect. With a mind that moves a mile a minute. A wild woman that truly enjoys being in nature. Hiking or hotsprings, I love connecting to Mother Earth. As a continuous student of life and its wonders, you'll find me in my downtime practicing tantra and yoga, reading one of the 3-5 books I currently have dog-eared next to my bed, or planning my next adventure. Nonfiction and esoteric books are my favorite right now, but there's always a romance novel in the stack. I live for learning new things – anything, really. I'm a sponge and a hopeless romantic that wants to take in all of the world at once. I'm slowly learning to enjoy living in the moment, one day at a time.
​I strive to curate meaningful adventures with healing as the ultimate goal. As a licensed massage therapist and Tantrika, this work feeds my soul, pulses through my body, and makes my heart sing. As soon as you gaze into my sparkling hazel eyes, you will see its okay to lose yourself in the energy we create.
Reno, NV is home base until October 2020 when I'll be relocating to the Seattle area. Until then, fly me to you is always an option. :) Come October, I'm happy to meet you at your upscale home or hotel until I have an incall to call home. Please head over to my website when you are ready to meet. But, please do review the 'donations' and 'know beforehand' for any questions you may have. When reaching out, remember first impressions are everything. Please be precise and efficient in your communication and you will receive the same respect in return.
​XoXo Shay Rose
The Look
Shay Rose LMT is a 5'6", curvy, 32 year old caucasian woman with medium length red hair and hazel eyes.
She is available for Male, Female, Couples, and Trans.
Expectations
I request advance notice for first time clients of at least 24-48 hours. Same day appointments may be accommodated if screening is completed in time.
Please text or email only, phone calls are reserved for screened clients only.
First impressions are everything, please visit my websites "know beforehand" page prior to reaching out.
I respect my clients time and safety, I only ask for the same in return.
Excellent personal hygiene is a must.