+

Creating heaven on earth for the discerning gentleman.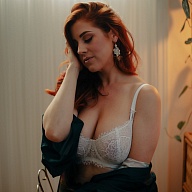 You've done something right to get here – perhaps an unconscious signal you put out into the universe, hoping to find a kindred soul along your journey to invite a passionate, healing energy into your life.
You're the type of person who never tires of exploring all the different layers of another as you get to know them. You crave a deeper sense of connection, one that makes you feel alive.
It is my great honor to invite you into my world – a sacred bubble I've curated to allow us the joy of learning about each other and ourselves more fully. In this bubble, I strive to show up as my radiant, whole, authentic self, to better assist you in doing the same. I draw from my experience as a licensed massage therapist, kundaIini reiki practitioner and practice of Tantra to infuse divine feminine energy with meaningful touch.
I embody a tantric way of living, moving slow and deliberately, finding joy and pleasures in all that I do. I keep my mind, body and spirit alive on a daily basis with practices such as; qigong, yoga, ecstatic dance, hiking, breath work and meditation. As a student of the earth, I find the divine all around me. The swing of tree branches in the wind, the burbling of a creek, the song of the sparrows. When I tune into nature, I find connections through all living things. My wish is to bring that sense of connection and oneness into your life, so that we may vibrate at the same frequency in pursuit of lifes sweetest nectar.
My passion for healing and heart centered connection shines through in my work. Through a meditated and intentional approach, I seek to awaken your true potential, allowing your unique creativity, sweet sensuality and natural born gifts to come online. I feel called to this work, and am nourished by your growth. To be of assistance on your journey would be a fruitful experience for me, and a genuine honor.
XO Scarlett Rose
The Look
Scarlett Rose is a 5'6", curvy, 33 year old caucasian woman with medium length red hair and hazel eyes.
She is available for Male, Female, and Couples.
Interests
As a continuous student of life and it's mysteries, you'll find me in my downtime dancing, meditating, hiking, practicing yoga, reading one of the 3-6 books I currently have dog-eared or planning my next adventure exploring the stunningly beautiful state of Washington.
I'm constantly looking for new ways to discover more of myself, astrology is one of the main ways I do so currently. Don't be surprised when I ask you what your sign is. ;)
Expectations
Please note I am only seeing 3-4 clients per week, advance notice is recommended and appreciated. Longer engagements and tantric massage take priority.
Please visit the booking page on my website for proper screening prior to reaching out.
I am newbie friendly, be prepared to divulge some personal information in the absence of references.