+

Passion, fire, and love languages.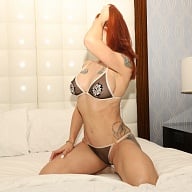 I have an exciting new announcement! The warm weather has led me to shedding layers before I leave the house everyday, so I've been feeling pretty flirty lately. So, I'm now opening up Companionship for new friends! I've previously held the space for Established Clients only, but if you're a new client and would like to take a stroll into my boudoir, the door is now wide open to you as well! I tend to book out in advance, so please reach out if you've felt a spark emanating from this ad that only encapsulates my 2-dimensional self…there's so much more. Read on!
I am told that I am captivating. I possess a certain quality people can't put their finger on, a sort of siren-call… intoxicating. I love to look for my companion's id. To slowly expose mine and see if the two might connect. Perhaps we may be able to bounce between our own individual prisms—the hidden things that only shine if you're looking for them.
From a peppering of tattoos, a tasteful septum piercing, to my copper-red hair, I exude an original type of alternative elegance, combined with an unyielding sense of curiosity. I am fluid in various surroundings and can adapt to nearly any situation.
I am no runway model. But, standing at 5'8", I carry myself with grace and elegance and wear my body very well. I think you'll like it!
I have a BA in journalism, and will be working towards a master's degree in psychology soon, as soon as I finish some prerequisites! In my spare time, when I'm not cramming for Yoga Finals, I study Japanese, am leaning to play the harmonium, and have picked up a bit of Esperanto just for fun. I love deeply, and have an enigmatic combination of intelligence, nerdiness, razor-sharp wit, and down-to-earth playfulness. I'm a language enthusiast, word nerd, and love to travel the world and meet others who have done the same! I love to share and collect stories. Stories of love and loss, travelling the globe, and everything in between.
I can't wait to meet you.
Warmly yours,
Penelope xo
The Look
Penelope Querida is a 5'8", athletic, 36 year old caucasian woman with medium length red hair and green eyes.
She is available for Male only.
Interests
Currently reading:
"The Yoga Sutras of Patanjali", Translation and Commentary by Sri Swami Satchidananda
"The Storyteller", by Jodi Picoult
Current obsession: learning how to play the harmonium! Singing joyfully along with the melodies is actually very healthy for stimulating the Vagus nerve.
Currently excited/anxious to: get back in the swing of college life!
Gotta do more: self-care! I sometimes forget to take time just for me. With so much going on in my personal life, I feel like there's always something more I can be doing. But! I've found that starting the day with some gratitude reflection helps begin the day with love for myself.
Passion project: helping facilitate a group of trauma and domestic violence survivors. As a woman who's lived a rich and meaningful life, I've encountered both beauty and tragedy along the way, and survived some trauma too. Giving back through this group is not only healing for me, but will hopefully help others to find healing as well.
Expectations
How To Set Up a Session:
Please connect to me via email at penelope.querida@protonmail.com to set up a session and have the requisites below included in your email.
Tell me about yourself! The more I know, the more eager I'll be to meet you.
An active board handle with recent activity/reviews/okays, or P411 ID#.
Two companion references to vouch for you with their preferred method of contact included.
Day/time preferred for your appointment, as well as how long of a session you'd like.
Note: I'm newbie friendly! If you do not have references, then you must be prepared to divulge personal information.
Hours:
Mon: 1-8pm
Tues: 1-8pm
Wed: unavailable
Thurs: 1-8pm
Fri: 1-pm
Sat & Sun: unavailable
*I can sometimes be flexible if needed*
Contact Info
Contact
Information
Add Penelope Querida to...