+

You have stumbled onto something that goes beyond your wildest dreams…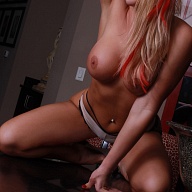 Tall, toned, tan, turned on & tuned in…The signs pointed you here, come see what that means as you begin to explore the depth of my realms & find yourself in the vastness of a reality yet discovered
I am unlike any woman you will ever meet. I can be a blessing and a curse, a total package deal that allows for indulgence in all your senses and exploration of your light as well as your shadow.I am the Moon to your Sun.
I am the Red Pill type but make no mistake I will chameleonize amongst the Blue-type thinkers as needed.
I will be a key asset to you and yours whatever that means to you… this key offers the power of the Trinity at your fingertips: beauty, brains and whatsoever else you may be desiring.
So…whether you want to deepdive into the depths of a Quantum rabbit hole or take a climb up Jacobs Ladder, I invite you to explore my game with an open mind and together we will see what dreams may come.
…Now that I have your attention, welcome to my field where imaginations manifest into reality
The Look
Ruby Skies is a 5'7", athletic, 38 year old caucasian woman with long blonde hair and brown eyes.
She is available for Male, and Couples.
Interests
Being a Songstress and a Wordsmith, Astrology, Numerology, Quantum physics, Etymology, Poetry, Esoterica, Syncretism, The Occult, Energy Frequency and vibration.
Working out, spending time in nature, beach walks, reading, research, being a nerd, animals and animal rescue, self-awareness, exploring consciousness.
Expectations
I must be able to screen you beforehand with 2 to 3 verified references or 2 to 3 forms of linkable forms of verification/identification so that I can feel as safe and comfortable with you as you will with me.
I do not discuss our interactions with others nor will I engage in any such discussions over text or email, our time together is between us, not us and the airways.
Considerations must be upfront and I do not take credit cards. For optimal time engagement please be fully showered and ready when you arrive. Scheduling is done in advance with at least 24hr notice so I can be my best for you therefore I am unable to take last-minute engagements.