+

Professional Consort, Mistress, Travel Companion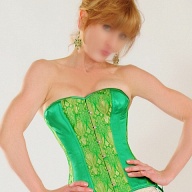 Elegance & Passion for a Discerning Gentleman
Youthful beauty, worldly maturity, and a sense of humor to beat Amy Schumer. ;)
I'm regularly mistaken for being a much younger woman, until I open my mouth and get mistaken for David Letterman. (That's a lie; he's funnier and better paid, but I'm cuter so it evens out.)
I'm also sexy, sassy, smart, strong … blah blah blah. All the same stuff you've seen on these profiles before. I've been around the block, am educated and accomplished. A well-rounded and voracious reader, I can hold my own on any topic (though let's not talk politics unless it's to mutually bash Trump).
Non-verbal communication is my specialty. I'm all about genuine intimacy. I love what I do but am retiring soon. This is your last chance to catch me before I disappear into the ether. You'll surely want to tell your friends you spent an evening with Cici … or not, come to think of it (but you will treasure the memory (!) in private forever).
My artistic pursuits seem to have taken off, plus I've launched a second career in a theraputic field. My availability as a companion is limited but I am somewhat available for the rest of this year.
See my website for more details, pics, and videos. My extensive blog is a good place to get to know who I am and what I'm about.
I look forward to discovering the same about you. Seriously, email me. Life is short; let's enjoy each other.
Let me create a perfect, private place for you to explore everything your Higher Self and erotic heart desires. If you're intrigued by me, there's a reason. Your intuition speaks the truth … do yourself a favor and listen.
Mature gents only, please. Deposits required.
Discretion is my top priority. (Fun is my 2nd. ;))
Interests
Yoga, dancing, concerts (the funkier the better), boating, picnics, billiards, swimming, hiking, art, theatre, film, reading, writing, travel, politics, world culture, anthropology, and philanthropy.
I haven't tried body painting, basket weaving, or calligraphy, but whatever floats your boat, I'm in! No sky-diving, thanks. (Though I will meet you on the ground with a hot kiss and a cold beer.)
Expectations
RATES are $500 / hour
I'm available in Austin, San Antonio, Houston, and Dallas by request. I have 2-3 hour minimums in all cities EXCEPT Austin.
Dallas & Houston: 3 hr minimum + $500 travel fee
San Antonio: 2 hr minimum + $200 travel fee