+

Sweetie pie and a lot of fun ;) <3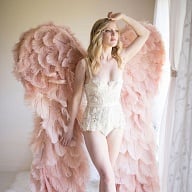 Let's connect and enjoy the beauty of life
Let's connect, laugh, and enjoy life
YOU: You're a smart, successful person always on the go. You love what you do, but sometimes you feel there is something missing. A little zing. Something to put a little pep in your step. You've browsed my pictures and now you're curious. Who is this blonde with a smile that is at once coy and devilish? How can one person manage to look pure and kittenish at the same time? You laugh to yourself at this paradox and wonder how it would be to take me out on a date. You've read about my love of travel and you want to ask me about my trips to Dublin, to Bali, to Jamaica. You want to tell me about your adventures, tell me some of your wisdom. You also know I'm a college student who never tires of learning. You think we could have a lot of fun learning about each other as we drink fine wine, laugh, and pass away an evening forgetting the rest of the world exists.
You wonder what else there is to know.
Let me paint a picture.
ME: It's a warm summer's afternoon, one of those balmy days that seem to last forever, where it's so warm that you just want to take off all your clothes and slip between the waves to cool down.
I'm walking along the shore, the same place where this morning I went for a run. Mid-twenties, 5'3", blonde hair in braids, eyes blue as the dappled ocean, I'm in a red sundress, a smile on my face as I dip my painted toes in the cool water. This is my happy place—out in nature, sun kissing my face. Yes, there is fire in my eyes if…when…you look closely enough.
US: The night we meet I walk to the hotel, excited to see you for the first time. I've spent a while getting ready for you—my skin is silky smooth, my makeup subtle and impeccable, hair falling around my shoulders in soft waves. I bite my lip at the thought of meeting you, at the adventure we are about to embark on. My mind is on you, and you alone.
You immediately spot me as I walk in. You take in my slender figure, soft curves, and that intoxicating smile as I make my way towards you. This is where tonight begins. Who knows where it will end?
The Look
Madison Jo is a 5'3" 25 year old caucasian woman with medium length blonde hair and blue eyes.
She is available for Male, Female, and Couples.
Interests
Reading by the water, solo traveling and relearning myself all over again, a beautiful book catching my eye at a used book store, a barista perfecting his craft and admiring a well-made latte, finding peace in the moment we look into each others eyes and connect…
These are just a very few of the things that set my heart on fire
Expectations
I require a deposit for all dates as well as screening for new friends.
Please fill out my contact form at madisonjo.com
or email me at madisonjo@protonmail.com
Let's take life a little less seriously…together, xoxo