+

Lets Connect! Your Gorgeous, passionate, and charming little lady.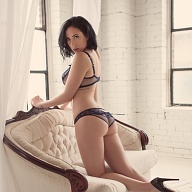 Come get lost in my world, for a passionate moment, an afternoon… Lets really connect, get completely lost & tangled up in each other… Are you ready to escape the ordinary?
To begin your perfect encounter: Bookings@NaomiNixion.com
You may have heard the name before… Time for you to discover a little more…
I am a highly sought after Toronto Companion with a incredibly positive reputation & genuine charm…
Come get lost in my world, for a passionate moment, a lustful afternoon… Lets really connect, get completely lost & tangled up in each other… Are you ready to escape the ordinary?
I'm the girl you see walking down the street that caught your eye, and when I our eyes lock, you suddenly get lost in my gaze, the thought of me on your mind for days.
Or picture the girl in the bar with the warm but mischievous grin that invites you in with her infectious laugh and lust for life.
With a contagious passion for life, I pride myself in being a positive, friendly, and genuine young woman who enjoys connecting and engaging with like-minded people.
My unique life experiences along with my traditional education has made me rich in both knowledge and intelligence, giving me wisdom beyond my young age.
Physically Im 56 with a youthful body and petite frame. My raven black hair falls just above my shoulders and perfectly contrasts my porcelain skin that is smooth as silk.
With a pretty face, full pouty lips and large lustrous blue & green eyes, I will capture you, and entice you. And once you meet my gaze & look deep into my eyes, you'll know
I take great enjoyment in up keeping my appearance and make sure that I am always polished & styled to perfection.
I consider myself to be a very passionate young lady, and enjoy letting things flow naturally, at their own pace. I truly believe that seduction begins with the mind, so lets tease our minds.
Please check out my website and fill out my booking request to set up your perfect encounter.
I am available for Fly Me To You Dates In Canada, Europe, Asia, The U.K, and tropical destinations…For more information, contact me directly…
I unfortunately don't travel to the USA under any circumstances.
Other information can be found on my website.
The Look
Naomi Nixion is a 5'6", all natural, 23 year old caucasian woman with shoulder length black hair and blue eyes.
She is available for Men, Women, and Couples.
Interests
I enjoy get lost in conversation for hours while curled up on the couch with our favourite drinks. Talking about the places we gone and the things we've seen, Music we've heard, surprising you and blowing you away with my love of old music, or showing off my skills in the kitchen.
I also have dabbled in comedy and acting my entire life, which will come as no surprise as soon as we meet.
I've been fortunate enough to have travelled to many places around the world. I'm intrigued by new and old cultures, and love taking in all the beauty the world has to offer.
I have a great love for the arts and creative people and have a knack for making people laugh. I have been involved in the arts my entire life and believe it's shaped me into the humorous, bubbly, and charming woman I am today.
Expectations
You've probably been looking at pictures, websites and reviews for awhile, and have finally decided to reach out to meet the companion you've been pining over. Only thing is you see on her website that she will oInly accept bookings from clients who have a "reference". You may know you don't have one, or be confused by the term in these settings, which means you probably don't have one.
A Reference check is just a security check for the provider to make sure that you are a respectful lad.
If you haven't seen any providers before or have only visited agencies you must book a coffee/drink date first.
Just so we can meet in a public space nearby the incall location, have a drink and chat a little bit. Once we both feel comfortable we can head off to my place for a bit more fun.
I pride myself in being a lady, a lady who likes to have a good time, but nonetheless a lady and expected to be treated as such.
I cater to gentlemen who enjoy the finer, more fine tuned in life, and who are looking for a genuine experience, not a menu.
Hygiene:
Lather, rise, repeat. I have my incall location filled stocked with all quality toiletries and fresh towels. We all have different standards and ideas of what is appropriate hygiene, but a quick shower, and freshening of the breath is the best way to ensure the best time, for us both.
Envelopes/Rates:
So the day has come, we are finally connecting. After reviewing my website and advertisements you should be aware of my rates and what they are for our encounter. I do prefer if the donation is in an envelope. Please double, and triple check it beforehand so that neither of us are put in an uncomfortable situation.