+

All Your Skin is a Stage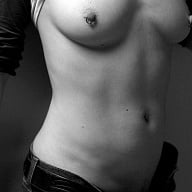 If you want to untie a knot, you must look at the cord carefully and then undo the tangle. Yanking the cord will only make the knot tighter.
Your need is to feel. Particularly through the process of touch. And you will be touched. Oh yes, you will be touched. With attention and intention, by hands that can listen with intelligence. By hands that know how to get down and through the envelope of your skin and deliver a flood of sensation that can take you to that somewhere else but here. What you will feel is something akin to falling asleep, except eventually in the opposite direction and at an alarming speed: Falling awake into an elongated space between thoughts with a whole world of sensation in it. An opening for you to pour into and through.
This can be done simply, say through the familiar pleasure of a good massage. Now there are many types of massage and bodywork practices. My own practice consists of a series of consciously delivered hands-on techniques inspired by Swedish massage, myofascial work and my own intuitive understandings of the body. The bodywork I offer is meant to wake up your awareness and every tissue in your body. It is also meant to feel safe, supportive and present. Neither too hard or too soft for your liking, it can lull you into a bodily space floating between deep relaxation and a more fully awake sort of awareness. Some call this state bliss. You may want to reside there forever. In short, this type of session is far from benign or simply a means to and end.
Or perhaps you need to be taken in hand in an entirely different way. You want a challenge that takes you to an edge and asks you to soften. You know who you are. Let's talk.
I am an athletically built bi female who is an accomplished sensualist, intellectually bent and intense in a quiet and attentive kind of way. I am also easy on the eyes, communicative and well-spoken, and in possession of an uncanny ability to create a comfortable vibe.
The Look
Anna Harris is a slender, all natural 34 year old caucasian woman with short blonde hair and blue eyes.
She is available for Men, Women, Couples, and TV/TS.
Interests
I am someone with a hunger and passion towards experience(s). I feel a tremendous sense of serious curiosity and wonderment about reality and the everyday experience of life. I have come to believe that trust, expressions of desire and the disentanglement of the body from the overlays of the mind are the gateways to growth and transformation that allow us to fathom something far vaster than the limited sense of our own being.
I am also someone who feels compelled to nurture others through touch. To touch people's bodies and facilitate greater ease of movement—and to teach people about their own body is what I have chosen to make my life about.
I am easily moved by tenderness. I am moved by the first, long sigh that comes escapes a clients lips. I understand it as a manifestation of a feeling that one does not have to hang on, that one feels safe. After this sigh a luminosity begins to grow within the whole body. It suffuses the room. It suffuses me. If you want to know what I am in it for, well, I am in it for the glow.
For years, my hands have been learning how to listen for subtleties and for ways to engage in dialogue. They have also been learning how to hold and offer support, as well as harmonize with the ever evolving embodiment of another. In this sense they are like a lead back up singer (think Merry Clayton and you've got the right idea). They contain a whole world within them and it brings me great joy to share that world with receptive others.
Some of my likes (in no particular order): authenticity; honesty and directness; presence; a bit of tomfoolery; strolls that take me far away from the gaze of other people, a good laugh, city strolls in fine company (especially after enjoying a fantastic spread of food; conversation that drops into the depths with ease; random conversations with strangers; figuring out how the body works; a comfy hoodie; learning; writing with pencil; the feel of a warm wind across my skin; mutual respect; synchronous flow; awareness of self (e.g., boundaries, vulnerabilities); awareness of self in relation to the others and the external world; an outfit that compliments one's shape and attitude; chosen family; laundry out on the line affixed with wooden clothes pins; awkwardness (it's charming); more learning; nurturing and being nurtured; wishbones; kindness; questions; interviews with Foucault or Deleuze; watching birds; the moon; loyalty and respect; a well-worn leather jacket; rocks of all shapes and sizes; Tom of Finland sheets; anatomy textbooks; a long drive; sexy dreams…I could go on.
Dislikes: Douchebags; injustice of all types towards all living things; yappy dogs that look like they take 6 D-sized batteries; grumpy old Italian neighbors who yell at me every time I fire up my motorcycle (although I am still trying to see their charm. They weren't always grumpy, were they?); wasted food; mean people; disregard; playing soccer on artificial turf; lying; flip flops; dirty dishes that are not mine; black ice on streetcar tracks; people who play really loud music as though they are the only people around; hormone-driven sadness.
Expectations
Take a moment to collect your thoughts before you contact me. Make sure that you have read all of my website before you write, paying special attention to the FAQs. By doing so, you will have thoroughly educated yourself about the parameters I work within, my interests and specialities, and our potential compatibility.
I prefer email to arrange appointments. When you write, tell me a bit about yourself, what you would like to explore, and why. The more you reveal at this time, the more we will be able to trust each other, and the greater the possibility of having a delighful time together.
When you contact me, it is also helpful if you propose a date, time and length of session you desire. It is nearly impossible for me to accommodate same day appointments, but it has been known to happen on occasion. I can make do with one day, but the more notice I have the better. I work most days and between the hours of 10am-9pm. Exception can be made based on your availability. Extending past 9pm is possible.
With regards to email, I tend to check first thing in the morning. After that, it varies. I will always get back to you within 24 hours unless I am away or have taken some time off.
When you make an appointment with me, I expect to be treated in the same manner you would treat any other healthcare professional or human for that matter: respectfully.
Be punctual: If you cannot make your appointment please call to reschedule or cancel as soon as possible.
Be clean and well groomed: That said, you are welcome to use the shower on the premises to freshen up before we start.