+

World Class Domina- Dominance at its Finest, Fetish & Fantasy Personified.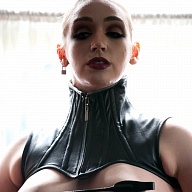 "My form of artistic expression is to bring others into my kinky, welcoming, emotionally and physically safe universe. It would be my honor to share that with you"
The Look
Ruby Enraylls is a 5'9", curvy, all natural, 25 year old caucasian woman with long blonde hair and green eyes.
She is available for Men, Women, Couples, and TV/TS.
Hello Friend,
You have found yourself here, with me, because you are looking for something different. Maybe you, yourself, are different and you are searching for where you fit. Perhaps you need a connection with someone that transcends the bounds of normality; A world outside of the space that you normally operate in where you can examine yourself, expand your view of something or explore yourself.
I also recognize the possibility that you clicked here because you liked my pretty photos. Regardless of your reasoning, you are looking for a connection that is sensual, seductive and powerful in ways that push the bounds of reality.
Whether you are seeking out deep exploration, to give yourself in submission, to fantasize only about what could, to experience something new or to discover something intangible you have found yourself here and I'm sure the reason for this meeting will make sense to both of us in due time. For now, you have found yourself at my feet and my whims-
Allow me to introduce myself
If you have gotten this far, I am probably the figment of your imagination that you always thought never existed;
I am the mysterious feminine creature you have always dreamed of who nurtures the true you, the commanding girl in your class who made you feel weak at the knees but made you feel stronger than Hercules, the criminal seductress who enraptured men, always evading capture in your favorite TV show.
I am your savior, your worst nightmare, abuser, protector, childhood monster, most fantastical day dream, anxieties, childhood hero, worst fears, the safest place in the world, the perfect drug and none of these things all at once. My name is Ruby Enraylls and it is my pleasure to invite you into my domain.
I have been described as the kind of woman who allows you to believe that magic exists in the world
I am wired differently; I am calculating but incredibly charming. I radiate seductive and powerful energy that will almost literally put you under a spell if you aren't careful- don't worry though, the well-being of my playmates matters to me.
I am a passionate woman in all things, a refreshingly intelligent conversationalist, wickedly funny, intuitive with the application of skills and other-worldly in both looks and demeanor. That is to say, that you are unlikely to meet another woman who is as much of a bad ass as I am. (Yes, that is a technical term.)
Genesis of a Seattle Dominatrix
What should you expect?
When I open the door, you will be met by a tall, ethereal blonde woman with piercing eyes that will calculate and scan your every move without judgment or prejudice. When I invite you past the threshold of my door, our eyes will meet and you will feel a wave of understanding wash over you. A strange feeling will grow within you while you are in my presence… Suddenly it will dawn on you and you will realize that with me you feel like you are home.
In sessions, I am myself and it is my goal to make you better for having known me. Sometimes this means pushing you in unexpected ways and that means you need to put yourself in my hands, completely. I will expect you to communicate clearly with me and trust me, in my mind a scene is created by two people and we have to lean on each other.
When you arrive, it is my hope that you will leave your responsibilities, worries, fears, anxieties, troubles, issues, problems, trauma, etc at the door along with your shoes so that we can both see each other clearly. When we see each other clearly, we can exploit that and go deeper than the frivolous.
Interests
Symphony & Opera Music, Fine Dining, Victorian architecture, restoring antique furniture, lingerie (Agent Provocateur, primarily), The Art of the Femine Mistique, make up artistry, hosiery, home projects.
Expectations
I prefer to be contacted by email, text or the contact form on my website. Please do not call me as I prefer to avoid speaking on the phone; Most communication occurs with body language and facial expressions, while arranging a face to face meeting is important I prefer methods where I have the opportunity to really think about my response.
I'm available most days between 11am and 11pm but I require at least 3 hours notice before an engagement.
Once you have submitted your appointment request form and your desired appointment time has been accepted I will require you to confirm your appointment with me 3 hours prior to our scheduled meeting time. You can confirm with me by sending me an email, texting me or leaving a voice mail. Once you have confirmed your appointment, I will send you directions to my dungeon.