+

I am a beautiful Colombian student, visiting Bellevue for the first time!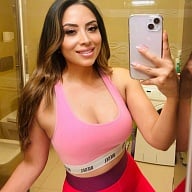 In the curls of my hair and the deep gaze of my eyes, you will find the promise of a unique and captivating experience. I am a student with a passion for knowledge, always looking for new ways to learn and grow on this intriguing journey called life.
I consider myself a tireless traveler, thirsty for adventures and cultures. Each destination is an opportunity to immerse myself in the unknown, explore distant horizons and discover the magic that is hidden in every corner of the world.
My mind is a whirlwind of restless ideas and my heart a kaleidoscope of intense emotions. With each step I take, I leave an indelible mark on the road, and with each word I utter, I manage to envelop you in a dance of seduc… and mystery.
I am the perfect combination between sweetness and mischief, and my laugh is the echo that resonates on full moon nights. My passion for life and for the beauty that surrounds it is reflected in every gesture, in every movement and in every sigh that escapes my lips.
As a student, I strive to absorb all that human wisdom has to offer, but I also understand that the true teaching is found in every experience that life brings me. My restless and curious mind is the engine that drives my constant search for learning, in each place I visit and with each person I am lucky enough to meet.
Therefore, if you want to accompany me on this fascinating journey, where sensuality is intertwined with the desir3 to discover, I invite you to lose yourself in the enigma that is me, the student and traveler who will take you through unknown paths, where every moment will be a delight. for your senses and a unique experience that you will treasure forever.
I invite you to contact me. I'm in Bellevue.
The Look
Iamrubi is a 27 year old latina woman with brunette hair and brown eyes.