+

Luxurious redhead & curvaceous hedonist - London & worldwide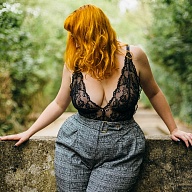 'You're a work of art - not everybody will understand you, but the ones that do will never forget about you.'
I'm Amelia, a riot of curves and colour with a sharp mind and a soft, inviting body. A professional hedonist and elite BDSM companion based in London, I'm here for a good time – and I want to take you along with me.
If you're searching for an unparalleled experience which goes far beyond the mundane, which pushes the boundaries of decadence and pleasure, then I think you've come to the right place. I'm a luxury you definitely deserve.
Privately educated and a lifelong student, I'm currently working on my third degree, which keeps me fairly busy. However, I like to leave enough time for self-indulgence and new experiences with interesting people. I love the rigour of the academic world but I find it lacks the thrill and excitement I search for in my personal life, so I'm forced to look elsewhere to fulfil my more particular desires. I can come across quite demure – I do spend a lot of my time in the library, after all – but I have a wild side which comes out when I'm with more discerning dates and underneath my charming exterior lies a whole host of unexplored passions which I'd love to share with you.
In my private life, I'm an unashamed hedonist. I'm a creative and passionate partner - I want to use my body to overwhelm and overpower you, my mind to corrupt and confound you – I won't stop until we're both satisfied, breathless, with heavy smiles on our faces.
I have a perfectly generous hourglass figure – natural 34GG breasts and an incredibly full, curvaceous bottom, emphasised by my slim waist. My body cries out to be adored, and standing 5'10 without heels, I'm easy to worship. With my abundant curves, pale skin and thick red hair, I've sometimes been compared to a renaissance painting – but I'll leave you to judge whether I deserve to be immortalised on canvas.
The Look
Amelia Swann is a 5'9", full figured, all natural, 26 year old caucasian woman with shoulder length red hair and blue eyes.
She is available for Men, Women, Couples, and TV/TS.
Interests
My academic background is in the social sciences, and I'm a smart conversationalist with an innate drive to learn more – I absorb knowledge with the same enthusiasm I bring to other encounters. I can more than hold my own when discussing politics, literature or philosophy and take great delight in passionate, heated debate over drinks, which inevitably leads to passionate, heated debate elsewhere…
In my private life, I'm driven by an obsession with uncovering the new, the unfamiliar, the exciting – whether that's a new piece of writing, a recently opened restaurant, the latest exhibition – or a new confidante, and all of the thrill that comes with discovering someone's predilections for the first time. I imagine that since you're here, you also recognise the pure rush of endorphins that comes from this experience – let's explore it together.
I revel in the luxurious and I know that if you're seeking my company, you do too. Everything about me is lavish and over-the-top – my figure, my mind, my predilictions. This might be too much for some people, but for those who know what they want, for those who know the importance of pleasure, I'm exactly what you're looking for.
Expectations
Outside the world of professional companionship, I lead a fairly busy life – sadly, this means I'm very rarely able to make same day appointments, particularly if we have not previously met. Booking in advance is therefore greatly appreciated. This also gives us a chance to build anticipation, which I always think makes for a more satisfying meeting. The best way to book some time with me is to send a short email, with your name, preferred date and time, and a brief idea of what you'd like us to do together.
I prioritise appointments with those who are able to provide references – if you're unable to do this, I may ask for a small deposit to secure the session. Please note this is non-refundable upon cancellation. On the very rare occasions I'm forced to cancel a booking, any deposits will be refunded in full.
I understand that schedules do change – if you wish to cancel an appointment with me, please try and do so with as much advance notice as possible. If you cancel with less than 24 hours notice, I ask for a 20% cancellation fee. This can go towards any further bookings made within six months – failure to pay this will mean I'm unable to make another booking with you.