+

Luxurious redhead - London & worldwide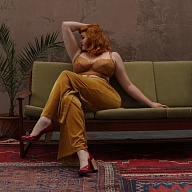 'You're a work of art - not everybody will understand you, but the ones that do will never forget about you.'
I consider myself a contemporary classic. A thoroughly modern woman, I am an expert in curating moments of personal indulgence which will stay with you, long after we've parted ways. With a appreciation for vintage glamour and an eye for timeless elegance, I'm dedicated to a life of good literature, better wine and above all, enthralling company.
I want to be on your mind – whether it's for a minute, as a wild flash of pleasure, coursing through you; or the subject of a deep, hour-long reverie. Let's make some memories together.
I thrive off the magic of possibility. You know the feeling. It's that pulse-quickening, lip-biting, sparks-flying sense that anything could happen, the kind that makes you shiver with anticipation.
It's moments like this which make life worth living, and I've been lucky to have more than my fair share. But these kind of experiences are meant to be enjoyed together – and I hope we get the chance to do just that.
The Look
Amelia Swann is a 5'9", bbw, 28 year old caucasian woman with shoulder length red hair and blue eyes.
She is available for Male, Female, Couples, and Trans.
Interests
A riot of curves and colour, I can't help but turn heads wherever I go. However our connection plays out, I'm looking for authenticity in my relationships, above all else.
Privately educated and a lifelong student, I'm currently working on my third degree. My academic background is in the Social Sciences, and I'm a smart conversationalist with an innate wish to learn more – I absorb knowledge with the same enthusiasm I'll bring to our meeting.
I don't believe in holding back – life is short and we should take pleasure where we find it. I revel in unabashed joy and luxury: getting lost in a moment and escaping reality, even if just for a little while. I know that if you're seeking my company, the same can be said for you.
From my extreme proportions to my unapologetic sensuality, I've always been a devotee of pleasure, tempered by an understanding that sometimes, discretion is a necessary virtue. I know what I want from life, and I like to spend my time with others who feel the same. I'm anything but the ordinary.
In my private life, I'm driven by a inclination to uncover the unfamiliar and the exciting – whether that's the latest exhibition, a new piece of literature. I imagine that since you're here, you also recognise the thrill that comes from this experience – let's explore it together.
Expectations
Outside the world of professional companionship, I lead a fairly busy life which means I'm very rarely able to make same day appointments, particularly if we have not previously met. Booking in advance is therefore greatly appreciated. This also gives us a chance to build anticipation, which I always think makes for a more satisfying meeting. The best way to book some time with me is to send a short email, with your name, preferred date and time, and a brief idea of what you'd like us to do together.
I prioritise appointments with those who are able to provide references – if you're unable to do this, I may ask for a small deposit to secure the session. Please note this is not refundable upon cancellation. On the very rare occasions I'm forced to cancel a booking, any deposits will be refunded in full.
I understand that schedules do change - if you have to cancel an appointment with me, please try and do so with as much advance notice as possible. If you've paid a deposit, I'm afraid this is not refundable upon cancellation, but can go towards any booking made within six months. If you cancel with less than 48 hours notice, I ask for a 10% cancellation fee. If you cancel with less than 12 hours notice, I ask for a 50% cancellation fee. I'm afraid that failure to pay this will mean I'm unable to make another booking with you.