+

Opulent sadism with a smile!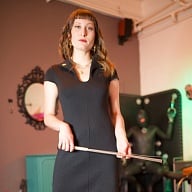 I will humbly lead you to the places that come with true submission & devotion. This is where one may transcend themselves and embrace female dominance, human error/incompetency, and absolute freedom.
Are you searching for a new level of excitement or a way to explore your deepest, darkest fantasies? Look no further. Your path to the extraordinary begins here.
Meet Dominatrix Marcy, an experienced, professional dominatrix who is ready to guide you into the world of BDSM with a skillful, respectful, and comprehensive approach. Marcy is a trained and experienced dominatrix with over a decade of expertise in the BDSM scene. She is not just a professional; she lives and breathes the culture, adding a level of authenticity to every encounter. She specializes in creating unique, personalized experiences that push boundaries while always prioritizing safety and consent.
Services Offered:
1. Bondage and Discipline (B&D): Experience the thrill of submission or the power of control.
2. Dominance and Submission (D&S): Explore the dynamics of power exchange and surrendering to your desires.
3. Sadism and Masochism (S&M): Delve into the world of pain and pleasure within safe boundaries.
4. Role-Play Scenarios: Bring your fantasies to life with immersive role-play.
5. Education and Training: Learn the art of BDSM from a seasoned professional.
Why Choose Marcy Ory?
- Experienced: Over 10 years in the field.
- Professional: Discretion is guaranteed. Your privacy is my top priority.
- Safe: Safety and consent are the cornerstones of every session.
- Customized: Each session is tailored to your unique desires and comfort levels.
- Educational: Marcy is committed to teaching newcomers the proper way to engage in BDSM practices.
I welcome all fetishes and desires; the more creative and out there, the better! My curiosity and leadership skills ensure that we will have a fantastic time. I prioritize building long-lasting professional relationships and take great care in crafting alternate realities for us to engage with. I laugh a lot and have been told I have a wicked smirk during playtime. Reach out and let's build something beautiful and endearing.
XO,
Dominatrix Marcy Ory
The Look
Marcy Ory is a 5'3", slender, 28 year old woman with long brunette hair and grey eyes.
She is available for Male, Female, Couples, and Trans.
Interests
In my spare time, I am quite a well-rounded woman. I enjoy being outside and physically active (traveling, hiking, camping, boating, cycling, road trips, etc.), history and culture (museums, art shows, live music, and various people-watching), reading, crafting, and volunteering in my community. I tutor middle and high school kids a few times a week helping with math and science! I also love music and movies. My favorite movie of all time is Dennis Hopper's "Easy Rider" from 1969 and I worked in the music industry for a few years as a record buyer specializing in jazz, world music, and outlaw country, although I really do listen to it all. I simply enjoy being alive and experiencing all that I can with my short time here.
Expectations
Please note that if you message me, I will be analyzing your every word moving forward to gain a sense of you and your experience. I expect full sentences with proper punctuation and grammar. Be informative and warm when addressing me, noting that am a professional and have experience in both the academic and corporate world. Gentlemanly behavior will go a long way and I have a zero-tolerance policy for disrespect. Tributes are cash only unless otherwise discussed and a standard screening process is to ensure my safety. Further details upon inquiry.