+

Your Non-Binary Baby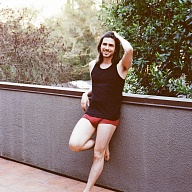 This world can be a lonely place - let's take care of each other.
Hi! It's your non-binary baby Ashley Lake, now in the NYC area!
It can be a hard and wild world out there, and a little lonely when you're not quite sure how you fit. But perhaps you've just found what you're looking for – something a little outside of the box but that feels just right.
I'm caring and kind and can help you hit that spot – a little girly, a little tomboyish, scruffy and sweet. You can call me she, you can call me they, or he – just call out to me and I'll come take care of you.
I'm available for everything from some quick stress relief to a romantic evening. Let me help you make the most of that lunch break or get in some culture on your NY visit - have you seen Mapplethorpe at the Guggenheim yet? I've been a practicing artist for over a decade and would love to share some beauty with you.
I'm an incorrigible nerd and always excited to indulge in it - let me show you local arcades, the best theater for that blockbuster superhero movie (with a meal!), or a tour of the stacks at Strand. Or let's just comparing our comic book collections.
Don't let that lead you wrong - I may have nerdy interests but I'm hardly the stammering type. I'm also available for doubles, let me introduce you to my friends! You can find videos of us on my social media, I hope you enjoy them!
I can rock a look, but I'm always happy to keep things casual - if you like some scruff and a backwards baseball cap, I'm there for that. Also, I'm passport ready! I love to travel!
Let me know what makes you feel safe and cared for - and we'll build that excitement together! I'm looking out for your note!
The Look
Ashley Lake is a 5'8" caucasian with medium length brunette hair and brown eyes.
They are available for Male, Female, Couples, and Trans.
Interests
I've traveled the world and read hundreds of books, but every person I meet is their own adventure. I'm interested in your story, what drives you and what challenges you, I'll never get enough of hearing other human's thoughts.
I've been doing photography for over a decade and am always excited to talk about art history or even gear if you like to get into it. I make media for adult entertainers, and you can see videos I've been in and photos I've taken at my links - you could even hire me to take film portraits for you, if you'd like!
I have more than a passing interest in comic books, videogames, and even hyper-nerd stuff like Magic: the Gathering. I can't help it, I love genre stuff! Weasel your way into my heart with a gift card to my favorite comic store hehe
I also have a particular interset in connecting with people exploring their own gender and finding themselves in new ways - I always love to connect to people curious about themselves and help them learn how to get what they need out of life.
Expectations
400 - Up to 2 hours - Some private relaxation
600 - Up to 4 hours - Our little date (requires public time)
1000 - Up to Overnight - A night on the town and sweetness in the morning - I'll take care of you!
Incall available to regulars and people well screened (with references to providers I know.)