+

Goddess Diana Chicago Tantra Muse I specialize in multi hr tantra retreats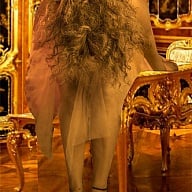 Having an open heart keeps you vital, youthful,mysterious, ageless and transcendent
Tantra yoga is a heart centered practice that teaches you mindfulness and awakens your ability to connect to bliss
I am an Empath and possess heightened awareness which means I am instantly at ease with your energy and in no rush to help you explore your hidden capacity to feel overwhelming bliss.
I have 20 years of experience cumulatively as an alternative energy worker, Usui Reiki Master, Tantra Educator and massage therapist. I have been formally trained as a Certified Tantra Educator, Usui Reiki master, Pranic Healer, Massage therapist, lomi lomi therapist, and Tantra couples coach. I'm very confident we will engage in laughter, gentle healing touch and positivity during our tantra ceremonies.
My unique specialty is preparing full day or half day Shamanic Tantra bliss journeys and spa retreats. Lengthier ceremonies include luxury baths for two, sound healing, cuddle therapy, yoga, chakra balancing, traditional massage therapy, Aromatherapy, advanced and beginners tantra ceremonies and Sacred Goddess healing.
A Goddess ceremony is the sacred art of learning how to give unconditional love and healing touch to your partner. After learning all about the Goddess and the Divine Feminine you will have unique tools you may share with your partner at home and incorporate into your daily practice.
I'm available to plan a special full day of tantra spa retreat ceremonies with you if you give me adequate notice and a deposit. I recommend sessions no shorter in length than 90 minutes for beginners and require at least three hours notice if you are seeking a same day appointment.
During our tantra ceremony you will feel rejuvenated and not depleted.
I try to make all my sessions heartfelt and connecting. I can create an environment through my loving and empathic nature where you will feel safe, nurtured and deeply cared for. Tantra to me is not an exercise of "will" or force but of simply being in the moment.
Contact me directly by phone between 9am till 9pm to schedule a same day session and you can always set up a late evening meeting with me provided you call between those hours. I would prefer for you to call me directly for a personalized live phone conversation rather than text. I like tuning into the energies of your voice as opposed to a generic text from an unknown stranger.
If you have questions about my ceremonies and you would prefer to meet with me in person prior to committing to a tantra ceremony I encourage you to hire me for a paid coffee consultation. During your hour long consultation you are encouraged to ask me anything you wish and you can use the fee as your deposit towards your first tantra ceremony with me. I am willing to meet you anywhere within the city of Chicago and in Schaumburg, Illinois. I endeavor to make you feel as comfortable as possible prior to our first session and I can explain in depth anything you wish to know about the subtleties of alternative healing and traditional tantra yoga.
My preference is to receive 24 hours notice if you are seeking a mini tantra spa retreat. I love creating something beautiful for the two of us to enjoy and savor and I always acquire a gorgeous, cozy, serene space that will enhance our time together. If you don't have a full 24 hours simply call me early in the day before 3pm and I can still accommodate you for a spa retreat and you agree to give me a deposit immediately.
I am very enthusiastic about the sessions I offer and you will find me to be very caring and supportive. I prefer to work with men and women who are self starters and who are also into energy work, self care and creative pursuits.
You deserve the very best and tantra spa ceremonies are a beautiful way to pamper yourself while boosting your immunity.
Visit my website for a beautiful array of exquisite healing journeys!
The Look
Goddess Diana is a 5'1", curvy, 38 year old caucasian woman with shoulder length hair and hazel eyes.
She is available for Male, Female, Couples, and Trans.
Interests
• Traveling
• Hiking
• Music
• Chanting
• Chakra balancing
• Nature interactions with Animals & fauna
• The Arts
• Cinema
• Antiquities
• Fine Dining
• Vintage Photography/ black & White
• Vintage Clothes
• Myticism
• Astrology
• The Occult/Paranormal
• Psychic Phenomena
• Writing
• Co Creation of Sacred Space
• Cuddling
• Full Day Shamanic Journeys with
my Tantra Guests & Devotees
I adore engaging in good conversation with all my guests and my true hope is that we can become good friends during our time together because your enjoyment is very important to me. When we share a tantra session together my true goal is to help you feel deeply connected to your own powerful energy within you. In essence I will help you awaken your own body's ability to heal itself so that you feel tingly, genuinely at peace with yourself and full of positive energy for days. I'm especially in touch and attuned with psychic energy, the paranormal and creating healing magic.
My greatest passion of course is connecting with creative, heart centered people who are seeking nurturing touch and hopefully interested in learning more about the magic within all of us as we co create sacred moments.
I'm an extrovert, extremely comfortable with strangers and engaging in conversations with people I've just met. In fact many of my clients feel so comfortable with me that they tell me it feels as if they have known me for years. I always begin all my sessions with conversation to put you at ease and set the best mood for our ceremony. It's natural for anyone to feel a bit nervous the first time they meet someone new and I never wish to rush anyone who entrusts me with their energy.
If you would like to bring me a gift I absolutely love precious gems like garnet and yellow topaz and crystals like rose quartz, clear quartz wands, selenite, citrine, tektite, smoky quartz, and Obsidian. I use crystals during all my tantra ceremonies and I have an extensive collection so I would always welcome a new crystal wand or sacred geometry set if you wish to present me with something thoughtful.
Expectations
Please visit my colorful website Tantra Butterfly to find additional information or to schedule a ceremony with me.
My site is entertaining and informative with beautiful imagery, a creative photo gallery links to my social media, my background in Tantra, and articles I've written.
You will find a contact form for you to fill out for my screening process or you may send me a private email and introduce yourself to me.
You are also invited to call me directly if you desire a last minute appointment and you can formally introduce yourself to me over the phone.
I must verify and screen all new guests and discretion is very important to me. Your information will never be disclosed! I'm very respectful of your privacy and won't share your information with anyone else.