+

Voyeurism should totally be part of your every day, just sayin'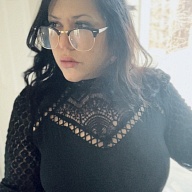 California Girl here for my Graduate degree, then headin' home.
I'm enjoying my time here earning my degree (a bittttt slower then I intended) and plan to have fun while doing it. I took up body rubs as a side gig just for fun last year and ended up really enjoying it. I am no-pro by any means necessary, However if your willing to let me experiment you won't regret it haha :)
If your into nerdy girls with black hair, I'm for you. I'm a larger gal with lots of Curves at 5 2', 180. Photos are accurate and recent. I offer videos/photos/ FaceTime Sessions if you can't meet in person. If you can, I come to you! Recently moved to the Buford area So I'm no longer in Roswell as my old reviews will say. If interested in Reviews on me you will find them under Kristy/Roswell on TER or RubMD. I have been so busy with school I'm just now able to get back to doing this for fun. It's been a while, so I'm hoping to meet some nice people who will let me practice my skills just for fun! Its 220 per session, nuru is 320 but I'm just now learning how to work with the stuff and have the real thing if interested in trying that out all the way. Honestly, I think it's more fun to play and laugh then anything and don't take myself to seriously! This is all for fun, so let's relax with some wine and music while we enjoy the day together. I found this super cool latex bedding set to go with the nuru gel and really want to use them at least once, so let me try it on you some time!
The Look
Kristy is a 5'1", bbw, 26 year old asian woman with long black hair and hazel eyes.
She is available for Male, Female, Couples, and Trans.
Interests
I am a huge book worm! I always loved anime to the point Cosplay and Conventions are where you will find me every weekend. If you wanna meet in the meta let me know or catch me on Skyrim.
I am clearly a foodie, I am big into food trucks around ATL, then finding cool flea markets or pop ups. That's my version of a good time. I can get lost in them for hours! I'm not so much into shopping as I am the treasure hunt of it all.
Expectations
I am free day time hours only M-F as I'm in school late afternoon. Please text rather then call, as I'm using text free and the app is a bitch. After wehave had at least one session together I'm happy to give you my real number so we can call/text/FaceTime. I can meet any time between 8 am- 4 pm. Free on the weekends and can do over nights if interested. Over nights start at 600, your choice of hotel anywhere in metro Atlanta. 12 hours to own me, who wouldn't want that? Haha
I am into Kink/BDSM, open minded is an understatement. I feel like you can be 100% open and unafraid because you vary well may never see me again. That's what is so alluring to me- No holding back.