+

Beauty before your eyes (yo hablo español)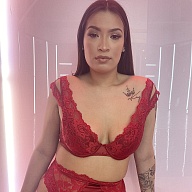 Asian & Hispanic Mix True Beauty
I want you to think of everything that makes you feel a fire in your chest. The things that make your breath hitch and your pulse flutter. Is it wandering the halls of the Louvre, watching the Mona Lisa watch you? Or is it standing on a black sand beach in Hawaii, watching the sun go down after a day of surfing the waves? Seeing the world, soothing that ache of wanderlust. I long to see all the beautiful sites this planet has to offer, and I want to see them with you.
Are your eyes still closed? I am the missing piece of from your dreams.
Defined curves, sculpted to perfection The perfect landscape. Long jet black hair that tumbles down to my mid-back, soft and luxurious. The click of sleek stilettos as I join you on a balcony overlooking a tropical paradise, gazing up with almond eyes that pierce into your very core.
A soft smile from velvety lips, and a gentle caress from a delicate hand. We turn to watch the sunset, the warm light illuminating my smooth toffee skin. Picture me with you, exploring the world. I am in your dreams, and you are in mine.
Want to know the best part? Open your eyes, and see that your adventure is right before you. You are so close to an exhilirating evening full of creative conversation, deep connection, and personal discovery. See the world as you've never seen it before, with me.
I am Anna Love your next adventure.
xoxo,
Anna Love
The Look
Anna Love is a curvy 21 year old latina / asian woman with medium length black hair and brown eyes.
She is available for Male only.