+

Step into my private garden.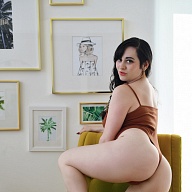 Attention is the beginning of devotion. — Mary Oliver
Kinky, creative and cunning, I'm real in ways you've undoubtedly been missing. That's why you're here, isn't it?
Regularly in NYC, Seattle, and elsewhere by incentive.
Current Travel Schedule (Prebook Only!)
• Tahoe, NV November 20 - 24
• Seattle December 2 - 6
• NYC early January (projected January 8 - 16, confirmed by bookings)
Available all other dates in San Francisco or by Fly Me To You.
Oh, hello.
I know you — you're looking for someone to distract from your daily life, to pump fuel on your creative fire — and you're not just looking for anyone.
Perhaps you're looking for me.
Sure, I'm cute, but that's not enough for you. I mean, how long can you really spend gazing into someone's (huge, piercing, deep green) eyes without a word to keep your attention? How lost can you really get just admiring the (hot-blooded, soft as silk, with curves for days) body of a woman who doesn't have the wit to match your inquiring mind?
My unique mix of clever East Coast snark and warm California sweetness makes connecting with people easy. I'm most likely to going to make you laugh, and good luck trying to forget me. Not that I think you'll want to…
From the start, I want our time to feel… well, timeless. Whether we're new acquaintances getting to know each other or old friends, conversation will roll easily and we'll part ways looking forward to our next meeting.
The Look
Rose Gibson is a 5'2" 27 year old caucasian woman with long brunette hair and green eyes.
She is available for Male, Female, Couples, and Trans.
Interests
I prefer longer dates to draw out our personal chemistry, get comfortable, and savor the connection. No stranger to power dynamics, I'm as natural in charge as I am following instructions. I rarely meet a kink that doesn't at least fascinate me, if not enthrall completely, and I love when people feel comfortable exploring theirs with me. I can be commanding but I'm only cruel when you really want it.
My favorite ways to connect are over food or other shared experience, and we're best fit for each other if you're curious, laugh easily, and make fast friends but savor enduring relationships. Read me passages from your favorite book or let me finger feed you from my impeccably manicured hands; no matter what we get up to, I promise you won't be bored.
Expectations
Send me a love note! Include what dates and times you're interested in booking, a quick intro, and your references so we can get started with screening. I prefer 24-hours notice for new connections, but if we've met, I love a spontaneous date when my busy schedule allows. I'm San Francisco based but travel often — the East Coast and Europe call to my heart. Email me if you'd like to be notified of my travels!
More details on my website, or available once screened.
$700 for up to an hour. (Only available for outcalls or when the stars align.)
$900 for an hour and a half, a quick jaunt.
$1200 for two hours, a lush cup of tea.
$1800 for three hours, to get properly acquainted.
$2200 for four hours, to luxuriate.
$3000 for six hours, the perfect dinner date.
$5000 for up to fourteen hours, including a romantic sleepover.
I offer bespoke rates for travel and longer dates. I'm available for domestic and international travel with enough notice and the right invitation.
I will travel within the Pacific North West or within California for a four-hour minimum date, plus travel expenses covered. My Fly-Me-to-You minimum is 6-hours for the rest of North America. Enquire for international rates.
Can't wait to meet you!