+

A bird on the water that sheds her feathers to become woman on land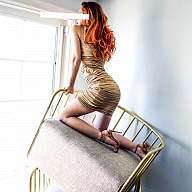 I saw her first in her feathered form.
I saw her first in her feathered form: I was three weeks in to a Pacific crossing, fair winds and all following seas, wing-on-wing, single-handing, tethered in. I'd been alone so long I wasn't human.
The day had opened up hot. Eight knots of wind steady on the back of my neck, no land for weeks, sparse white clouds high overhead. The sky and the ocean the same deep blue meeting at the horizon. The slow roll of the waves was my whole world and my heartbeat.
All the hairs stood up on the back of my neck and I slammed my hand over my hat as a sudden gust of wind rushed over my sailboat's stern. I lurched for the sheets and I almost missed her.
Up. I looked up, all the way up. Impossibly high and still rising. I grabbed for my binoculars. She was riding a thermal, motionless. Her wings were brown, orange, striped white and black, vivid coral, pink, neon, like a sea-creature erupted forth from the water.
I lost sight of her as she rose, her white underbelly merging into a white cloud, but the memory of her was as real to me as each wave's roll.
Weeks later, I sighted land. Two volcanos that rose slowly over the horizon. I anchored out and rowed my dinghy to shore. Scrambling up onto a deserted beach, I saw something.
Nestled under a rock, wet from the tide it was orangey-pink, striped black and white, vivid, neon, each feather ruffling in the breeze
I had found the feathered pelt of a rare bird, abandoned on the beach. And leading forth from the wet feathers on the sand, was the shape of a human foot.
Upon the breeze, I heard the faintest whisper …
"Opals, silk, lace, furs, I like this world a lot"
_
twitter: @rarebirding
P411: P219934
The Look
The Rare Bird is a 5'6", slender, 36 year old caucasian woman with long brunette hair and brown eyes.
She is available for Male, Female, Couples, and Trans.
Expectations
minimum 48 hours / $50,000
_
screening via:
references LinkedIn verification
Before we meet, I'll ask you to jump on a short, five minute video call to verify your ID. The app I use blocks screenshots. Your information will be safe with me.
_
sussing out:
I'm also happy to offer you a one-time virtual session to assess our compatibility. In the session, I'll walk us through a series of questions designed to help us get to know one another, build trust, and start a solid foundation of care. (3 hours / $3000)
I'll book our virtual room via The Wildewing.