+

The epitome of L'Art de Vivre…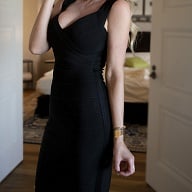 Lola Daniels embodies L'Art de Vivre, celebrating passion, encouraging expansion, and embracing profound connections…
​
Inspiring the belief that life, and its experiences are not staid, but rather an evolutionary and transformational process to be inspired and empowered.
Opening you up to an expansive world, raising your expectations of what it means to be connected to something extraordinary.
​
A world that merges fantasy with authencity. One, that has the ability to embolden and liberate you to partake in a utopian journey. One whose destination is only limited by the imagination…
The Look
Lola Daniels is a woman.
She is available for Male, Female, and Couples.
Expectations
The tribute for our time together is not specified on my website, as the possibilities are limitless! Allow me to suggest the following, with the intent to evoke inspiration…
Transcendent introduction… 3,000
Indulge me, for your enchanting curiosity has captivated my senses. With immense gratitude, I extend a fervent invitation, beckoning you to entangle your passions with mine. Together, let us breathe life into the masterpiece of your fantasies, a rendez-vous that will leave you exhilarated and entranced…
With ecstatic anticipation… xx