+

All natural tattooed vixen seeks passion and connection during travels.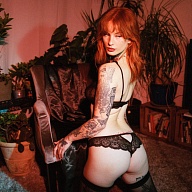 Embodying both classiness and curiously rebellious energy.
I'm Octavia, a passoin-fueled woman with a tattoo adorned & all natural physicality, and a wit to match. Upon first glace, my red hair, freckles, and tattooed curvy figure combine to give me the look of an exotic girl-next-door; which is complimented by a sweet, nurturing charm. My passions lie in exploring the natural world, connecting with new people, creating collaborating, finding ways to grow, traveling off the beaten path, and experiencing the finer things in life; whether they be simple pleasures or more induldgent. My lifestyle is rooted in a hedonistic drive to seek out fulfillment through beautiful, thrill-filled moments of connection. I'm deeply drawn to the creativity of closeness… the authenticity that can be found within some of our most exquisite, deep and vulnerable selves. I pride myself on the passion, attentiveness and authenticity that I bring into my life, including our sessions, and I encourage you to come into our dates with a similar open-mindset.
What initially interested me in the world of companionship was my want for an abnormal lifestyle that would give me the stability and free time which is needed to be a traveling artist. Once I dipped my toes into this side of the world, I quickly fell in love with it: the process of discovering another person's intricacies, creating an environment of comfortable exploration, and forming meaningful, mutually beneficial connections.
Through my work as companion, I hope to cultivate an ambiance of genuine comfortability for the both of us to relax within; a warm escape from the mundane. As you step into my world, allow yourself to fall into a rhythm of ease, sensuality and laughter.
​
I hope to see you soon.
The Look
Octavia is a 5'8" 23 year old caucasian woman with medium length red hair and blue eyes.
She is available for Male, Female, Couples, and Trans.
Interests
​Destinations: hotsprings, natural beaches, cobblestone roads, small towns, wildflower meadows, mountain fog, bustling cities, historical sites, candle light, boat rides at sunset, dancing like nobody is watching.
​
Dining: farm to table, wine pairings, multi-course meals, rich deserts shared, flights of mezcal, street food, sour beer, dining with live music, soft champagne, fresh fruit picnics, charcuterie, home grown and home cooked.
​
Fabrics: Latex, Lace, Leather, Fur
​
Activities: Backpacking, camping, dancing, learning new
skills, drawing/painting/tattooing, visiting museums, cooking, dismantling, gardening, traveling, live music, visiting spas, foraging, herbalism, book stores.
​
Current Favorite Music: Frankie Knuckles, Moodymann, D'angelo, Mulatu Astatke, The Caretaker, Turnstile, Gulch, Black Flag, Mazzy Star, The Books, Sparklehorse, Jim Croce, The Clash, The Cramps, Hank Williams, Michael Hurley, Bobby Womack, Nina Simone, Jackie Shane, The Replacements Many More
Expectations
Prior to our date, please prepare the donation in a discxrete fashion. Upon arrival, please place your donation in a visible place.
Please be prepared to freshen up in the restroom upon arrival. You may use the shower at my in-call space.
​
I do not allow photography/filming during our dates.
​
When contacting me, please do not use obscene, inappropriate, or graphic language.
Please do not contact me excessively outside of our time together.
​
Please note that I have a trusted assistant who assists me in the booking process, and helps me respond to emails in a timely fashion.
For new clients, I ask for a 20% deposit. If the date requires traveling or is a longer timeframe, the deposit may be higher.