+

Your New Obsession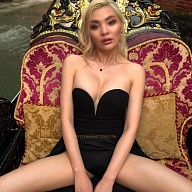 Sexy, bold and with a sassy attitude… Gentlemen, your new obsession.
My name is Evelyn Hampton, but you may call me this Eve… I am one of the most sought after of high end models across Asia and Australia, so USA you're in for a treat! Internationally established, I split my time between Sydney, Hong Kong, London and Singapore. I am now drafting a visit to the States and you can now Fly Me To You.
Physically speaking, I am the definition of boobs on legs, strung by a teenie waist and a tight lil' booty. As an US dress size 4, I'm often complimented for possessing Victoria's Secret measurements; a title earned rather than given, through the dedication of weekly workouts and a healthy lifestyle. With a stunning complexion and a runway ready physique which transcribes elegance and sexapeal, our first impression will have you mesmerised.
Although it rings true, that it is what is on the inside that counts, that does not dim the importance of a beautifully presented lady. As shown on my social media, I am a passionate follower of high fashion and love aesthetic pleasures. My style holds a classic feminine vibe, Eastern European style and coded in light pastel colours. You can expect nothing less than what is illustrated in my gallery.
If it were my images which enticed your attention, you'd be mind-blown upon discovering that I have a mind to match. As a conversationalist, dialogues with me are witty, tactful and meaningful. Tertiary educated, well-travelled, multi-lingual, open-minded and am a vivid reader, discussions will run seamlessly with null dull moments. My intellectual background includes economics, politics, science and mathematics. You will find I am mentally stimulating and possess a Risqué sense of humour.
Youthful, yet wise beyond my years, I am spiritual and a deep thinker by default. I relish in the beauty of the male-female connection and the magic that entails. You will notice the genuine spark during our encounter and that I savour each moment in your company. Highly sensual and bursting with enthusiasm, I'll ensure our time together is a memory you'll truly cherish. Fancy me, to fancy you!
On the exterior - well-composed and equipped with upmost social etiquette. Whereas intermediately, quite the opposite… I present a dynamic demeanour which you will find pleasantly calming yet dangerously alluring. This duo makes me an ideal addition to any social event and someone you'll truly enjoy.
I look forward to our meeting.
Find me on Twitter: @ToTheHampton
The Look
Evelyn Hampton is a 5'8", slender, 21 year old woman with long blonde hair and brown eyes.
She is available for Male, Female, and Couples.
Interests
Food: Sushi
Drink: Moët-Chandler
Music: Prince, Ed Sheeran
Perfume: Chanel No. 5
Expectations
When can we meet?
Currently in Europe, I will be planning my worldwide trip very shortly. I will consider your city with gathered interest. Stay Tuned.
Suggested Donations:
1 Hour: US $1,600
2 Hours: US $3,000
Every Additional Hour: US $1,200
12 Hours: US $9,000
24 hours: US $12,000 (1 day, 1 night)
48 hours: US $15,000 (2 days, 2 nights)
A portion of the donation must be transferred before we meet. This is mandatory to securing a meeting.
Options for transfer: Western Union, Credit Card, Bank Transfer, Bitcoin
Contact Method:
Contactable via Whatsapp (+61 436 437 354) and email (evelynhampton@protonmail.com).
Fly Me To You:
If you wish for me to visit your city, please contact me directly regarding arrangements. Yes I can fly worldwide!
(Disclaimer: To abide by legislation, the nature of my role in the United States differs from what is marketed elsewhere. As a "Formal Companion", our time together is in conjunctive with donations only and my time includes, but not restrictive to, the duties of a socialite, model and hostess or roles of similar nature. By arranging a booking with me through slixa.com, you acknowledge that you have sought me on a UK website securing only a date. More information can be found here: evelynhampton.com/terms)