+

Creative intellectual and insatiable sweetheart. Your favorite indulgence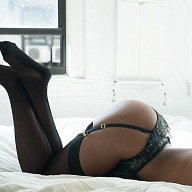 My greatest fear is to not have lived my life precisely as I so wish.
The Look
Olivia Cabot is a 5'2", slender, all natural, 22 year old black woman with short brunette hair and brown eyes.
She is available for Men, Women, Couples, and TV/TS.
There is little in this world more thrilling than the heady mix of rapture and anticipation.
As I adjust my dress, I can feel your eyes at my back, tracing the curves and soft lines made visible through the garment's fabric.
I run my fingers across the nape of my neck and give you a broad grin. You acknowledge my small show with a show of your own: a swift kiss accompanied by a knowing glint in your eye.
Over dinner and a glass of your favorite red, laughter and conversation come easy to us. We find that we have lived seperate lives, made similar by our un-yielding thirst for knowledge, adventure and meaningful thrills. We have no use for excuses, unfulfilled lives or small talk. We swap stories of travel, dreams and everything in between.
The evening is coming to a close and anticipation rolls off of us in waves. Our waitress returns and asks if we are ready for dessert… A soft giggle escapes my lips as I tilt my head, lock my gaze with yours and give you all the answer you need…
My website holds the answers to most of the questions you might have: Who I am, what I like and how we might begin to become friends. You will also find additional photos and links to my social media presence for the admirer still interested in learning more about the woman behind the screen. If I've managed to miss something and you can't find the answer within the pages of my site, feel free to shoot me an email!
Interests
I am a southern girl at heart, and so sunshine and the outdoors make my soul sing. Books were my first love, food was my second and travel, was my third. Sprinkle a healthy dose of respect, generosity and intellectual curiosity on top and I'm sure we'll get along swimmingly.
But that's enough about me. This is an experience that is ultimately about you: What do you like? What makes you tick? What have you been reading lately? What have you been thinking about? Where will the evening take us?
Perhaps you don't yet have the answers to those questions, and that's okay. I'm sure that together we can figure them out.
Expectations
As a result of this endeavor being only one among many of my varied interests, I am rarely available for same day bookings. For this reason, pre-booking as well as pre-screening is strongly encouraged.
If I am not in your city and do not have plans to visit, exclusive fly-me-to-you dates can be arranged. Additionally, when given enough advanced notice, I can be made available for extended dates as well as domestic and international travel with the admirer whom I have previously met.
Screening may be completed via the secure form located under the 'screening' tab on my website, or via email, provided all information is included. Please note that this process is entirely non-negotiable for new friends, and priority will be given to those who successfully provide all information in their initial correspondence.